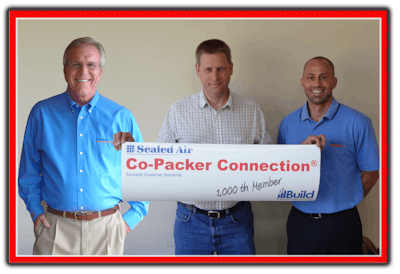 In early 2012, the Co-Packer Connection launched as an industry match-making resource for brands and manufacturers seeking contract packaging service providers. A news story on the launch noted that the service's database held 530 co-packing plants ready to serve manufacturers and marketers.
Today that number tops 1,000, a milestone surpassed with the addition of the Sylmar, CA, co-packing location of Build Rehabilitation Industries, which operates manufacturing, sourcing, contract packaging and logistics operations employing developmentally disabled adults.
"We're always looking to serve companies beyond our local market who need a partner in Southern California, so we're glad to be in the database," says Bill Augustyn, director of operations. "As a 501 C nonprofit training and employing disabled adults, we provide packaging and assembly work as well as contribute to our customers' social responsibility. It's a win-win."
"We now have more than 1,020 co-packer locations from more than 700 companies, and the list keeps growing," says the service's administrator, Scott Thomas, director, North American contract packaging segment for Sealed Air shrink packaging and a 2013-14 board member of the
Contract Packaging Association
. (
Pictured, left to Right: Thomas, Augustyn and Terry Allen, Sealed Air territory sales manager for Southern California.
)
Benefits for co-packer seekers
Brand marketers and manufacturers seeking co-packers have found the service useful, including one manager, name withheld, from a leading consumer products brand who said: "The response has been overwhelming! I have my work cut out responding to everyone."
The database-driven service addresses the need for marketers to efficiently find appropriate contract packaging partners based on details that go far beyond an ID number and contact information to include: square footage, years in operation, financial data, ratings/certifications, MBE status; on-site maintenance; key technologies and systems, types of packaging machinery and much more. When a manufacturer or CPG inquiry is received, Co-Packer Connection cross-references its secure, encrypted database, and responds to the inquiry with a short list of co-packers matching the desired criteria.
With its supply-side connection to Sealed Air, parent of Cryovac and Shanklin brand films and machinery, the Co-Packer Connection service also provides technical and sourcing assistance for film and machinery. Thomas stresses: "While there is no obligation to be a customer of Sealed Air or its subsidiaries to utilize this service, we have generated significant business as a result of the relationships we've developed through this program."
Overall, the service has proven itself to save manufacturers and brand marketers significant resources including the time and money traditionally required to send personnel scouring the continent to locate, research and qualify potential co-pack partners. Instead, a pharmaceutical, consumer packaged goods or other marketer can find a match with little more effort than a brief Web inquiry spelling-out business, packaging, capacity and related requirements for "faster time to market for new products and, just as importantly, a smooth transition of services for existing products," Thomas says.