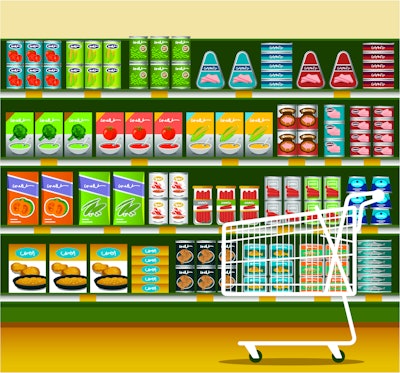 Store brands are gaining market share against the big national brands in America's fastest growing retail channels. That's according to the latest sales and market share statistics from Nielsen. Reports Nielsen, for the 52-week period ending Dec. 24, 2016, retailer's brands strongly outperformed the national brands in the rapidly growing mass merchandiser's segment of Nielsen's total outlets database. This segment includes retailers such as Walmart and Target as well as some warehouse club and dollar stores.
Private-label dollar volume in the mass merchandise/club/dollar store segment climbed 4.4% to $49.6 billion, resulting in a +0.5-point market share gain to 16.6%. A similar pattern emerged in regard to units, with private label advancing 4.2% compared with only 0.2% for brands. As a result, private label's market share moved up +0.6 of a point, to 19.7%.
Store brand's market share declined in the slow-growth supermarket channel—measured at 18.4% dollar share and 22.3% unit share—as well as in Nielsen's "all outlets combined" sector, but the data clearly indicate that, separate from the adverse impact of supermarket numbers dragging down the overall private-label results, market shares for retailer brands in the other outlets have experienced solid gains at the expense of national brands.
While Nielsen reports total private-label sales for 2016 at $118 billion, these results do not include sales from some of the biggest and best store brand retailers in the country, such as Costco, Aldi, and Trader Joe's. Estimates of their private-label sales would add $35 billion to the total and push the total U.S. private-label market to more than $150 billion.