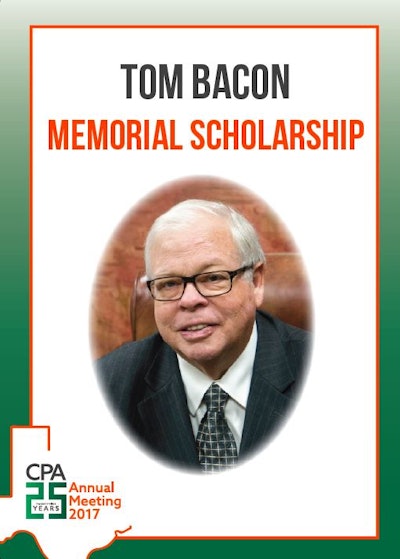 CPA can help you pay for college
During this year's annual meeting of the Contract Packaging Association, the new Tom Bacon Memorial Scholarship was announced, which was created to support packaging education and to raise awareness of packaging as a career choice.The scholarship pays tribute to the founding father of CPA, Thomas Bacon. The CPA Board of Directors worked directly with the Bacon family to create the scholarship. In honor of this industry icon, annual meeting attendees generously donated to increase the fund value to $3,100.
If you are a manager for a CPA Member company, share this information with your team. Candidates for the Tom Bacon Memorial Scholarship must:
Be a family member of an employee at a member company that is in good standing with the CPA
Be enrolled in an accredited two- or four-year college, university, or vocational/technical school in a course of study relevant to a business or business-related field, with preference given to a packaging curriculum
Have a GPA of 3.0 or higher
Be a U.S. citizen
Winner(s) of the CPA's Institute of Packaging Professionals' (IoPP) scholarship are not eligible. For information on how to apply for the scholarship in 2018, contact Jill Gabbert, Member Services.
Contract Packaging Sourcing Center returns to PACK EXPO Las Vegas
CPA will host its popular Contract Packaging Sourcing Center at PACK EXPO Las Vegas, Sept. 25-27 at the Las Vegas Convention Center, in Booth #C-1257. The Sourcing Center is a place where brand owners interested in contract packaging and manufacturing services can learn about CPA members and how to source these service providers. Visitors will experience real examples of contract-packaged and manufactured goods from CPA members and will have the opportunity to ask questions and interact with industry experts. The Sourcing Center is also a place for contract packagers and manufacturers to learn about CPA and the benefits of membership.
Also featured at the Sourcing Center will be the CPA Meet & Greet Happy Hour, which gives attendees an opportunity to mingle with CPA members, prospective members, and other packaging industry VIPs. This year's event will take place at the CPA booth on Tues., Sept. 26, from 3 p.m. to 4 p.m.
PMMI, The Association for Packaging and Processing Technologies, represents the voice of more than 700 North American manufacturers of equipment, components, and materials for processing and packaging. PMMI works to advance a variety of industries by connecting consumer goods companies with manufacturing solutions through the world-class PACK EXPO portfolio of trade shows, leading trade media, and a wide range of resources to empower its members. PACK EXPO Las Vegas will bring together more than 2,000 exhibitors and over 30,000 attendees from virtually every vertical market.
More information on the Sourcing Center and on how to become a Sourcing Center sponsor is available here.
Pre-register for CPA's tri-annual industry report
At this year's annual meeting, the CPA board announced a major revamp of the tri-annual industry report. The new report is the first major revamp since 2004. Pre-registered members will receive the Executive Summary, a $495 value. This valuable report, now in its 12th year, provides an accurate snapshot of the contract packaging industry, growth trends, emergent drivers, and market forces that shape our industry. The 2017 report research topics will include:
CAGR growth by sector/region/category
Industry snapshots/key metrics
Industry-shaping consumer trends
Business trends driving innovation
Technology impacts
Labor shortages/trends
Healthcare impacts
Automation update
Sustainability trends
Customer pricing insights
Supply chain of tomorrow
The impact of globalization
The rise of private equity
Industry consolidation trends
The packaging/logistics junction
Regulatory compliance pressures
Offshore/Mexico competition
The new and expanded report will be a valuable tool for anyone competing in the industry, for customers that buy the industry's services, and for suppliers to contract packaging and contract manufacturing firms. The CPA board believes this report will become the benchmark for measuring the growth and success of the contract packaging industry.
This $495 value provides insights that may shape your business in 2018 and beyond.
Pre-registration for the Executive Summary only takes two minutes—just visit the here to get started.
2017 Board of Directors announced
CPA is pleased to announce the newly elected Directors of the Board starting on July 1, 2017. The following individuals will participate as directors on the Board of Directors:
Nikki Johnson, Flexible Technologies (Associate Member, newly elected)
Patty Dodson, Exact Packaging (Regular Member, newly elected)
Jon Hayward, Bonded Pac (Regular Member, re-elected)
Tom Landry, Allegiance Staffing (Associate Member, re-elected)
Eric Wilhelm, Coregistics (Regular Member, re-elected)
Join us in welcoming our new Board of Directors. We're excited to further enhance member value, grow our association, and continue making an impact on this industry.