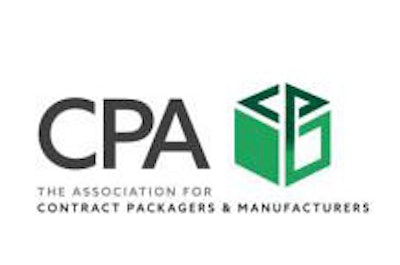 CPA 2.5 goes into effect in 2017, in celebration of the association's 25th anniversary. The new model for CPA is rooted in the following statement:
We believe in building a better supply chain. Through education, networking, and industry exposure, we help members innovate and grow their businesses. We are CPA - the association for contract packagers and manufacturers.
As part of membership, contract packagers will have access to new business development tools that leverage CPA's web presence and industry partnerships, including that of PMMI Media Group, publisher of Packaging World and Contract Packaging magazines and formative champions of the packaging industry and CPA. Some of the new value pieces include advertisements and other promotional opportunities, as well as a robust online directory system to house searchable content and videos. CPA Associate Members (suppliers) also have an upgraded value proposition, which gives them a choice in membership: regular or gold supplier.
"There has never been a better time to be part of CPA. We are in a position of expansion - in membership, industry authority, and contribution," says CPA Board President Vicky Smitley. "Our members want additional opportunities to learn, network, and position their companies for growth. And that is exactly what is accomplished in CPA 2.5."
As part of the announcement and the 25th anniversary, CPA unveils a new logo incorporating the term "manufacturers."
"The business of contract packaging is broadening, and more and more CPA members are performing manufacturing functions. The updated logo is reflective and relevant to the current and future state of the industry," says CPA Managing Director Nikki Johnson.
CPA is the national, not-for-profit trade organization for the contract packaging industry. CPA was formed in July 1992 for contract packaging firms and those businesses related to them in order to promote the growth and welfare of member firms.
Members include the nation's leading contract packagers as well as suppliers to the industry, performing all packaging functions: from the glamorous to the hazardous and the simplest to the most complex. CPA members offer these packaging services to an extremely wide variety of consumer goods companies and brand owners.
For more information about CPA, visit www.contractpackaging.org.