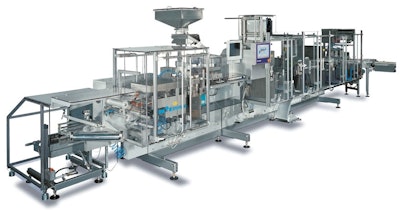 Almac, a provider of contract services to the global pharmaceutical and biotech industries, has acquired a state-of-the-art, high-speed Uhlmann blister line for Almac's new 100,000 sq' commercial packaging facility in Audubon, PA.

The UPS 4 blister line will process solid oral-dose products, providing primary packaging into a range of materials including PVC, PVC/PVDC, Aclar, and aluminum/aluminum. Complete with an integrated C2206 cartoner, the line will provide an output of up to 12,000 blisters/hr, in a range of blister sizes.

The line is capable of both multi-product blister processing and in-line blister printing (both flexographic and digital), addressing the need for enhanced patient compliance, while ensuring flexibility of supply. To enhance product compliance, the line will include a Total Quality Control Center (TQCC) incorporating a checkweigher and integrated print and vision system for automatic rejection of incorrect print/serialization data, including 2D codes.

Geoff Sloan, Almac's VP of manufacturing operations, explained that the partnership with Uhlmann was a natural choice: "Uhlmann was able to provide us with a versatile, high-spec blistering line to match our U.S. client requirements for a high-quality, flexible commercial packaging solution."