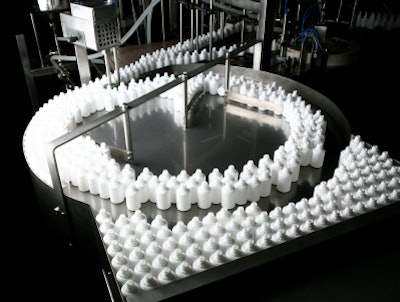 This year, global pharmaceutical contracting revenues totaled nearly $218 billion, and by 2016 that will rise to almost $361 billion—at a compound annual growth rate (CAGR) of 10.6%, according to "Contract Pharmaceutical Manufacturing, Research and Packaging: Global Markets," (PHM043D) from BCC Research.
BCC says the global market for pharmaceutical contracting can be broken down into four segments: contract manufacture of over-the-counter (OTC) drugs and nutraceuticals, contract manufacture of bulk and dosage form drugs, contract research, and contract packaging.
The OTC drug and nutraceutical segment accounted for nearly $128 billion in 2011 and is expected to grow at a CAGR of 10.9% to reach nearly $215 billion in 2016.
The bulk and dosage form drug segment held a value of $53.4 billion in 2011 and is expected to increase at a CAGR of 10.1% to reach $86.3 billion in 2016.
The research segment was worth $30.2 billion in 2011 and should be worth $50.5 billion in 2016, a CAGR of 10.8%.
The packaging segment, worth $6.4 billion in 2011, should be worth $9.3 billion in 2016, a CAGR of 7.8%.
According to the BCC report, "The current pharmaceutical industry is highly influenced and aided by contract manufacturers, packagers, and researchers. New state-of-the-art facilities as well as specialized expertise and capabilities have granted contract manufacturers a large share in the pharmaceuticals industry. With increasing competition among generic brands as well as drug patent expirations, pharmaceutical companies are relying increasingly on contract manufacturers to meet consumer demand."
The report continues, "Other reasons why more contract manufacturers are being utilized include rising research-and-development costs, waning patent life, a decrease in overall drug discoveries, and increasing regulatory pressures. The trend in the industry is toward pharmaceutical companies consolidating their functions and focusing on basic or specialized functions while outsourcing the rest of their functions to contract manufacturing companies.
"Since the market for pharmaceutical contract manufacturing, research, and packaging is dependent on the pharmaceutical market, as the pharmaceutical market increases, so does the contract manufacturing market."