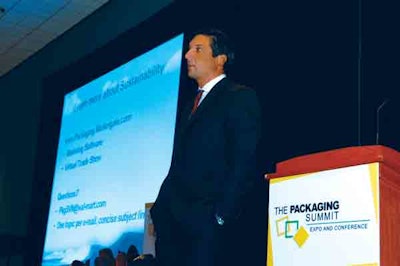 Matt Kistler, vice president, package and product innovations, Sam's Club/Wal-Mart Stores Inc., Bentonville, AR, revealed that the Wal-Mart scorecard is going global.
Kistler spoke to a packed and attentive luncheon crowd of about 400, which included both contract packagers and managers at consumer packaged goods companies who interface with co-packing companies. They wanted to hear more about the Wal-Mart scorecard unveiled last fall (www.packworld.com/view-22320). Amy Zettlemoyer, director of packaging for Sam's Club, joined in via speakerphone for the question-and-answer portion of the session.
Kistler explained that packaging is one of 14 sustainable networks that Wal-Mart has formed and all were working on scorecards; packaging is attached to the "zero waste" division that also includes operations.
He said the packaging section has 300 members, up sharply from about 50 members last fall.
Other points made at the luncheon:
• The scorecard allows "what if" scenarios, Kistler noted.
• Standards used in the scorecard are typically standards such as ISO 14000. However, the recovery values that factor into this portion of the scorecard—scored as 0, 1, 2, or 3—are based on 2005 U.S. recycling rate figures.
• Multicomponent packages are treated individually if they are removable from a package. For example, the label on a bottle is treated separately within the scorecard if it is removable, while a lamination on another package is likely treated as one material instead of two or more.
• Zettlemoyer urged co-packers and others in the audience to check back monthly to the scorecard site "or you will miss updates."
Have a question? You can e-mail Wal-Mart at [email protected].
For more information, visit www.packagemodeling.com
.