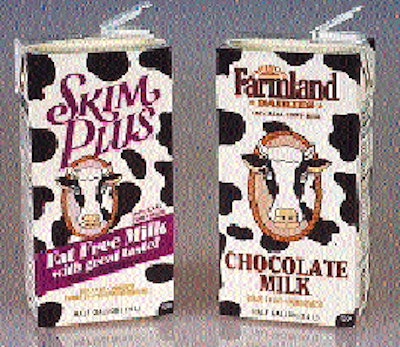 The cartons will be packaged on the first U.S. installation of the Model 405AL from Combibloc, Inc. (Columbus, OH), said to be the first low-acid packaging systems for cartons larger than 1-L in size. The spout is produced by J. L. Clark Co. (Rockford, IL).
Samples of the cartons were available during MegaShow, held last month in Chicago. The line will be operational by next month, to be followed by testing prior to validation by the Food & Drug Administration. Located in Wallington, NJ, Farmland has created a Food Packaging Div. in a separate plant for the 405AL. It will be followed by installation of a Model 507AL, a new generation low-acid aseptic filler from Combibloc that's capable of 7ꯠ quarts/hr. The division will serve as a copacker for aseptic products from pints up to half-gallon packs serving retail, foodservice and club store markets.
"The problem of portability has hindered sales of milk," Marc Goldman, Farmland president, told a MegaShow press conference. When asked where he expected his products to be displayed in supermarkets, he hedged, saying, "This opens opportunities for new locations for milk sales in stores."
When asked about consumer acceptance of such a large aseptic package, Goldman admitted there was a need for continued education. That Farmland's samples were displayed on what appeared to be an airline beverage cart may have been just a coincidence. And Goldman stressed that other products in the half-gallon pack will follow. Farmland packs juices, juice drinks and AriZona® products under license.
Companies in this article