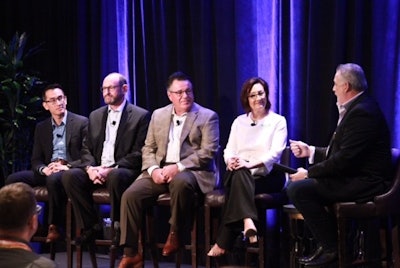 Our annual meeting was a great success! Attendee numbers grew 20% from 2017. Our jam-packed schedule delivered presentations and panel discussions from industry powerhouses like Jeff Hayzlett, Jason Forrest, and Adam Toporek.
The meeting was held in the heart of New Orleans' French Quarter, just steps from Bourbon Street, great music, and vintage architecture. At our kick-off event, attendees had an opportunity to see the sights as we "Took it to the Streets," participating in a parade led by an authentic second-line brass band that ended at Arnaud's Jazz Bistro for classic Creole cuisine and live Dixieland jazz.
After a swinging good time at Arnaud's (thanks folks, I'll be here all week!), Jeff Hayzlett's take-no-prisoners presentation on the first day of the event gave attendees the tools they need to overcome the obstacles that face our industry every day. In addition to his high-energy presentation, Jeff moderated four engaging panel discussions, all of which were recorded for his hit broadcast show, C-Suite TV. Jeff's moderated power-panel topics included, "The Contract Packaging Association and the Industry," "The Future of Business," "M&A - Starting, Growing and Exiting your Business: Part I," and "MegaTrends and the E-commerce Customer." The second day of the event allowed attendees to spend more time on these same topics via in-depth and thought-provoking panel discussions and questions from the audience.
During our President's Dinner, CPA Executive Director John Mazelin presented the Outstanding Contribution Awards to Board Members Patty Dodson and Vicky Smitley. These two members were instrumental in organizing the amazing panel discussions taking place throughout the week. In addition, it was my distinct honor to induct Vicky into the CPA Hall of Fame. Vicky's continued dedication and service to CPA are just a few reasons why she is deserving of this honor. I am very pleased to have had the opportunity to learn from her directly in her various roles within our organization.
Other speakers at the event included Tom Landry, with his presentation, "Labor Market and Talent"; Jason Forrest, "WTF: Why Training Fails"; and Adam Toporek, "Be Your Team's Hero." All three provided attendees with valuable perspectives from different points of contact throughout a company. The second day ended with a presentation from The Melville Group (TMG), which managed the independent CPA State of the Contract Packaging Industry Report. The results are in, and TMG Owner Carl Melville gave meeting attendees a small taste of what can be found in the full report, which includes information on the business trends driving innovation, such as sustainability and the impact of globalization, along with an industry snapshot and key metrics.
As always, the last day of the meeting brought our highly anticipated panel discussion, "M&A - Starting, Growing and Exiting your Business: Part II," moderated by Eric Wilhelm, CEO at contract packager Coregistics. Panelists Henry Bedford, Chairman and CEO of the Southwestern Company, and tax law specialist William P. Stubbs Jr. discussed entrepreneurial business evolution from start-up through growth challenges to exit preparations and options. One of our final presentations was from CPA Managing Director Ron Puvak, who emphasized the value of becoming, or renewing as, a CPA member in this rapidly changing industry. Given the accumulated experience and knowledge base of our membership along with the monetary value programs like our RFQ systems can bring to your business, Ron explained why it simply makes good business sense to stay ahead of the curve with CPA.
And of course, special thanks go to our Annual Sponsors: ADCO, Allegiance Staffing, Frazier & Son, KPAK, Nulogy, and PMMI Media Group, all of whom stepped up to the plate this year to help our event stay as excellent as attendees have come to expect. Adding to that was our newest feature, our Table Top Exhibitors. Six associate member companies—Delkor, Engage Technologies Corp., Massman Automation Designs LLC, ProAmpac, QLC, and Viking Masek—took advantage of this unique opportunity to speak with our (contract packaging) members about new products and services in the contract packaging and manufacturing industry. We had great feedback from both our attendees and exhibitors about this new feature, and we hope to provide an even better experience for everyone next year.
While our event was very successful, we only plan to get bigger and better. The feedback we are hearing is that CPA members want more educational offerings, which we plan to offer through more visibility at industry events and webinars. Stay tuned for more details!