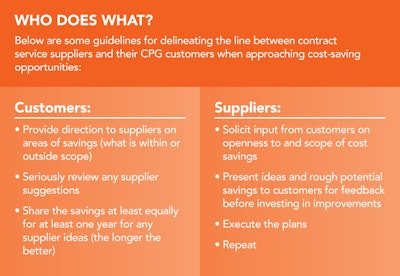 Cost savings continues to be one of the most frequent topics of discussion in the upstream CPG Supply Chain, from sourcing through production. This is no surprise for most brand marketers and their contract packaging partners, considering the challenge that, for instance, rising commodity prices, and increasing margin pressures place on their efforts meet consumer's increasing demands for value.

During discussions with industry members, this subject has come up over and over again. Everyone sees sourcing and related, upstream supply-chain reductions as opportunities to enhance value. Yet there is a lot of confusion at best (anger at worst) over the subject. Let's take a quick trip down memory lane to look at the evolution of cost savings capabilities.

At F4SS, we view this segment of the industry being "born" about 10 years ago – which is the point at which branded marketing companies began to look at outsourced manufacturing as a strategic activity vs. the tactical execution of days past. By the way, this doesn't imply that everyone views it strategically, however, this is the point where we began to see a significant shift in the industry.

When this happened, a new set of expectations was created. For many companies, it was clear that price was a strong driver (if not the only driver) of purchase decisions. Suppliers knew they needed to maintain a lean, mean machine to keep overhead in line.

So, do lean, mean suppliers have extra resources in their organization for anything other than absolutely essential activities? Of course not – this adds cost. So when customers started knocking at the door asking for price reductions, suppliers were challenged to contribute considering that there really weren't any colleagues in their organizations to do this kind of work.

There were some who tried, but found the effort futile as their suggestions for cost savings were often refused by customers. Customers didn't want ideas to reduce the thickness of corrugate or inner packs, or to change the footprint of a product to make it run more efficiently. They wanted suppliers to find ways to make the exact same product more efficiently and, most often, they wanted all of the savings.

We have evolved since then to reduce waste while still providing the expected, high levels of quality and related specifications. There is still, however, a lot of discord over cost savings. For instance, there are questions over which party is responsible for bringing the ideas to the table, and how the savings those ideas generate are to be distributed. What's needed is industry consensus on this issue so we can devote our attention to making progress instead of readying for battle.

Ultimately, every relationship needs to agree on terms that work for both parties. And there are ways to foster productive, cost-saving partnerships — see the "Who does what?" box on this page for a suggested approach.

The basis of these considerations is that if service providers are to be cost-cutters for their customers, and perhaps reap the rewards of any incentives, these factors should be clearly spelled-out in advance. Doing so will enhance the probability and, likely, size of the savings.
Lisa Shambro is Executive Director of F4SS, the Foundation for Strategic Sourcing/F4SS. Contact her at lisa.shambro@f4ss.org