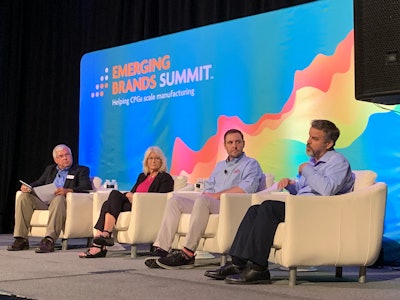 Aaron Hand
In the day leading up to PACK EXPO Las Vegas, the Emerging Brands Summit was the place for fast-growing emerging brands to learn more about how to scale their operations. Many of those emerging brands will rely on co-manufacturers and co-packers to help them meet growth demands. Co-mans will be invaluable in helping them understand what they need to scale up faster. More partners than suppliers, they will look for emerging brands that they can grow with, perhaps taking advantage of new opportunities in their own businesses.
"It's a very dynamic, fast-growing industry," says Ron Puvak, executive director of the Contract Packaging Association (CPA), which serves both co-packagers and co-manufacturers. Like the emerging CPG brands themselves, several of the co-mans are developing brands themselves, he adds. "That's a positive thing. We're going to talk about that and their strategies behind that and how it works successfully."
---
---
Puvak moderated a panel discussion at the Emerging Brands Summit as a group of co-manufacturers and co-packers shared valuable insights into how best to navigate key growth stages in the life of an emerging brand. Their insights reached into finding a good fit, co-man turn-offs, communication best practices, and more. But above all, they stressed the importance of making the relationship more of a partnership rather than a transaction.
"These folks are entrepreneurs, they're innovators, they're collaborators," Puvak says of the co-mans. "They want to have somebody walk in the door and be successful; that's in their best interest."
How do you know whether a co-man is a good fit for you?
Once you've done your due diligence, you've taken your product to market, and you're ready to scale up, you've got some important decisions to make about how you might do that. Co-manufacturers are available to partner with, and you'll likely have options.
"You need to make sure that you get your questions answered, and your needs are clearly understood. And we're here to ask the same of you. We're going to come to you with a number of questions, and we're going to make sure that our needs are met by you coming to the table prepared," says DeAnn DeVenney, director of sales and marketing for Maverick Packaging. "It's important for that first initial approach that you're organized, you have your ducks in a row. We welcome being there for you as an advisor if you need that; we appreciate the opportunity to help you along the way."
---
---
It's also important that you're willing to share your vision for your brand and your product, adds Dillon Vincent, director of quality assurance for Crystal Packaging. "You need to be willing to work with your co-man as a partner so that we can better understand what the goals are," he says. "Is it going to be a rapid growth into a lot of volume? Or are you going to grow with multiple SKUs? Just being upfront and transparent from the get-go is extremely helpful. That way, we as a co-man are not any kind of a bottleneck to your operation or holding anything up."
Vincent also recommends getting boots on the ground and visiting your co-man's site in person.
"It probably can't be stressed enough that your contract manufacturer or contract packager is your partner, not your vendor," adds Paul Shrater, president of Minimus Products. The first several minutes of a meeting can really set the stage for how that relationship is going to go, he adds. "When you're putting your baby in the hands of another company, you want to have that kind of relationship where they are your partner and you both treat each other that way."
Beyond the relationship, the co-mans will be assessing whether or not they can properly support your product, DeVenney says, commenting about the importance of giving them a clear understanding of your product. "If I can have a sample of your product so that I can hold it and make sure that I have an appreciation for how you're packaging," she says. "Maybe you're having some challenges. I want to understand what those challenges are because there's something behind it. Maybe your closure doesn't properly marry to your bottle. There are things that we can help you with. We always want to have those conversations. But my first step is understanding whether we can provide you the service that you're looking for, based on our current capabilities."
The first step is to make sure that capabilities line up, Vincent agrees. "Once we have found that it's going to work, we'll see if you have worked with a co-man in the past and learn what worked and what didn't work so that we can make sure that our relationship and our partnership is going to be positive moving forward," he adds.
It basically comes down to transparency on both sides, Shrater says. "Having a brand say, 'Here's what I'm worried about' or 'Here's issues I've seen before, here's what I want to accomplish. And then us as co-packers say, 'Well, here's what we can do, here's what we have, where we see issues,'" he says. "Or we may say, 'You know what, it's not the right fit for us.'"
Some co-manufacturers might have certain things they specialize in, or they might not be interested in taking on up-and-coming brands. "If there's not a good fit, by the way, ask the person you're talking to to give a recommendation," Shrater urges. "This industry is very much about wanting to help the customer. We can help make a good, vetted recommendation to another packager that could be helpful for the customer, whether we end up working with them or not."
What would be a turn-off for a co-manufacturer?
Turning to the negative, Puvak sought out turn-offs from a co-man's perspective—what NOT to do when you go out looking for some help in your expansion efforts.
If you go into shopping mode ("You're the fourth person I've met this week. What do you have for me?"), the co-man knows right away it will not be a partnership. "That's something that can be a setup for failure—if that's the approach, if it's interchangeable and you're treating your contract manufacturer like a commodity. It really is a partnership," Shrater says. "It's not just about price. It's about many other factors."
Vincent agrees, also bringing flexibility into the discussion. "If a brand comes in and they're not willing to be flexible, to try to make the relationship work with our company, it can be very difficult to work with them in the long term because it can just turn into miscommunications or things getting out of line," he says. "When it comes to working with us as a contract manufacturer, we're trying to get the product out the door. But when there's no real flexibility or willingness to work with your partner, that sort of thing can be a little tricky."
What are best practices for ongoing communication?
Communication is key when it comes to those initial meetings with your co-manufacturer, but how about moving forward? Puvak asked the panelists for examples of best practices.
"You can never, ever over-communicate with your co-man or co-pack. If you have issues, especially with the supply chain being as fun as it was a few years ago, we can never over-communicate," Vincent emphasizes. "Get the plan in place. Let us know if there's any headaches and hiccups coming along the way. When it comes to, you know, a bottle of laundry detergent, there's 40, 50 components all said and done that come together to make that. So that's all got to be timed very well and very consistently to match up with our production schedules."
Continued communication is important when glitches arise, in particular, Shrater notes. "Having those kinds of communications, sometimes there's a lot of entrepreneurial kind of problem-solving options that can happen, that you may not know you have the opportunity to ask that question," he says.
Often, the nature of the communication changes as the trust builds, the purchase order is in hand, and the co-man sets to work to getting the job done. "That communication sometimes changes to something more formal," DeVenney says. "Now it's not necessarily all email; sometimes we've got a form that we want you to fill out so that there's a clear understanding of every part of your bill of materials."
DeVenney urges brand owners to be accepting of that change in the relationship. "There's a reason why those procedures are put in place," she says. "It changes from where it begins to manufacturing."
How do I know when I'm ready for a co-man?
If you're having trouble filling orders from your own operation, it might be time to get help from a co-manufacturer. But it might not be. "It depends on the product," Shrater says. "Sometimes people go to a commercial kitchen; we get a lot of graduates from commercial kitchens into our business. Sometimes people like to figure it out at home and come up with a recipe. We might even send them to a food scientist to make sure everything they're doing is proper and preserved properly and all that. So it really depends on the situation."
It's never too early to have that initial conversation with a co-manufacturer, though, Shrater adds. "Oftentimes, the earlier, the better," he says. "We'll have people come in who are like, 'I'm not ready. I'm six months out, a year out. But I need to know what I'm looking at, I need to know what my options are, I need to know how this is going to play out in production so I can plan accordingly.' We welcome that early conversation."
Vincent agrees. "I don't think it's ever too early," he says. "If you're thinking about it, start doing some research and set a phone call, set a meeting to discuss with a co-man. Because during those conversations, you may figure out you are ready or you're not ready. Even if you're doing your own manufacturing and production now, once that scales up to a certain point, obviously there's an easy answer there. But if you're even considering doing co-man vs. doing your own production, at that time, it's a good opportunity to go and talk to a co-man."
Ultimately, nobody knows better than you do about when you're ready for a co-man, DeVenney says. Maverick is working with a customer now who came and said they just couldn't keep up; they had to stop all marketing because they were just trying to fulfill existing orders. "OK, so the timing is right," she says. "If you've got to stop selling because all you're focused on is manufacturing, then it's time."
Companies in this article