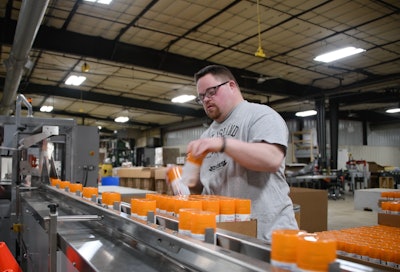 For contract packagers and manufactures, efficiency is high on the priority list to fulfill customers' needs. The Empac Group, a custom packager that provides contract manufacturing, assembly, and packaging services, shares this priority.
To meet customer demand and expected forecasts, the custom packager realized it needed a second vertical wrapper alongside its horizontal wrappers, side-seal wrappers, poly baggers, conveying equipment, steam tunnels, and sleeving equipment.
The Empac Group does not rely on equipment alone to get the job done, however. The company is a sheltered workshop, supervising adult employees who have a physical or intellectual disability. One of the company's missions is to train these individuals in new skills that they may not gain otherwise.
Equipment supplier sourced locally
The Empac Group has gained efficiency and training opportunities with Texwrap equipment over the last two decades and decided once again to turn to this OEM (which is part of ProMach), located only a mile down the road from its Washington, Mo. plant. It purchased a BVS Series 914 continuous motion, high-speed vertical seal wrapper and accompanying aerosol safe tunnel.
The Empac Group was originally introduced to Texwrap through its distributor, Packaging Systems Incorporated (PSI)—a provider of installation management services, preventive maintenance, parts, and service for end-of-line automated packaging equipment. The Empac Group was familiar with its OEM neighbor's capabilities and preferred to work with a local supplier, a benefit of which is that Texwrap representatives can be sent over to provide a quick fix when technical issues arise.
After the purchase of its first bundler, The Empac Group found itself with a growing customer base which led to purchases of more bundling machines. The BVS 914 was ordered in September, 2022 and arrived inside Empac's facility in January, 2023.
Flexibility, ease-of-operation, and quick changeovers
This BVS 914 is primarily used in bundling aerosol cans of household and automotive cleaners in different-sized packs and variety packs. The machine can run different SKUs and quantities, which gives The Empac Group the flexibility to fulfill diverse orders from customers. The company also bundles air-fresheners, Tupperware, cases of wine, and other consumer goods.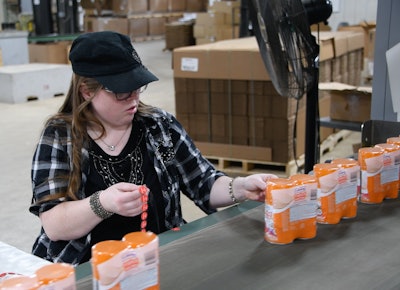 Reaching speeds up to 70 packs per minute, the BVS 914 can run a wide range of products with a maximum size of 9 inches wide by 14 inches high. The vertical wrapper is also designed for ease of changeover and adaptability of equipment, which reduces downtime in the everchanging product runs at the custom packager's facility.
Tim Poepsel, CEO of The Empac Group, explains that the workforce, including those with special needs, look forward to learning on the equipment due to its ease-of-operation—at times at slower speeds to meet a person's ability and to serve as a teaching mechanism.
Opening doors to success
According to The Empac Group, its 20-year relationship with Texwrap and the equipment it has provided have been key in seeing the custom packager grow its business and create an environment where its employees can develop and thrive.
"Adding our most recent Texwrap machine has given us the power to increase our output of bundling work for our customers by 100%," says Christa Mohesky, director of operations at The Empac Group. "Texwrap has enabled us to expand our business with current customers, while also growing business with new clients – and that's all been made possible through marketing all of our Texwrap machines."
The custom packager also got a head start on production through early operator training. As part of the equipment sale, The Empac Group sent over some of the more popular products they package and a team of employees to Packaging Systems and Texwrap. The OEM pre-programmed those packaging recipes into the machine and trained the Empac employees on the BVS 914. This allowed the operators to become familiar with the machine to minimize downtime once the equipment was installed.
The vertical wrapper also opens doors to The Empac Group's disabled employees. In teaching them something that they may not have learned otherwise, Poepsel says this allows them "to go on to a competitive community employment. Our division could place them into another position within the community. So, it has opened up a lot of opportunities for our folks."
Companies in this article