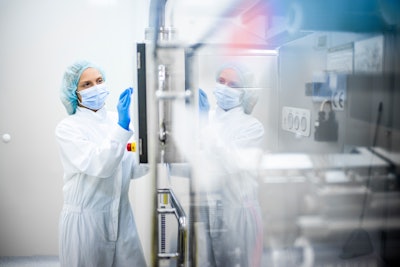 The finalized EU GMP Annex 1 "Manufacture of Sterile Medicinal Products" comes into force 25 August 2023. To download the Annex 1 document, visit the European Commission's official website. The Annex 1 document came to fruition as the Parental Drug Association (PDA) coordinated 11 professional associations in Europe, working together under the umbrella of the European Federation of Pharmaceutical Industries and Associations (EFPIA) to clarify regulations and requirements for the manufacturing of sterile medicinal products. PDA, along with the European Medicines Agency (EMA) and the Inspectors Working Group, took the lead on the discussion of the Annex 1 topic and its drafting.
As manufacturers and contract development and manufacturing organizations (CDMOs) prepare to meet the implementation date, PDA is hard at work writing "Points to Consider" (PtC) technical documents. Among the topics the documents will cover are breaking down the Annex 1 requirements to the science and technology behind them, insights on how to implement the requirements, and efforts to clarify nuanced interpretations that have been arising.
Machinery and filing line changes most common among manufacturers complying with Annex 1 requirements include:
Additions or adoptions of barrier systems, such as RABS and isolators, to separate operators from the products and processes.
Equipment and instrumentation changes or additions to active air pass-throughs, continuous total particulate air monitoring and PUPSIT assemblies.
Most larger companies put in place gap assessments and actions to implement these changes before the approval of the revised Annex 1, but some companies have taken on a wait-and-see attitude, delaying their identification of definitive corrective action.
"The Annex 1 document has been drafted and revised more than 15 times before becoming final. So, it's been a moving target. Typically, CDMOs are more on the waiting side because they need to be extremely careful with their investments," says Gabriele Gori, head of global pharmaceutical quality assurance for Zambon, a multinational company based in Italy, and co-chair of the PDA Task Force in charge of providing comments to the revised version of Annex 1.
With implementation expected to take one year, companies should be well on their way to becoming compliant with Annex 1 requirements. With the deadline right around the corner, any last-minute implementations may take months with all the writing procedures, conducting trainings, performing qualification and even ordering of new instrumentation or equipment. The final version of Annex 1 is also four or five times the volume of the 2008 version, according to Hal Baseman, chief operating officer at ValSource Inc., a consulting firm and validation contracting group based in the States. Baseman is also on the PDA Task Force team. Considering the increased volume of the document and the need to interpret the regulators intentions within each section correctly before making changes, acting late could lead to lack of compliance.
Quick tips for late implementation
Gori and Baseman suggest the following to all manufacturers and CDMOs but especially those that are behind on their implementation timeline:
Ensure that you attend as many discussion forums led by qualified individuals as possible and participate actively in the debate that PDA is offering in order to better interpret the requirements.
Have a conversation with your regulators and health authorities to ensure you are in line with their interpretations of the Annex 1 requirements. This is especially important in Europe, as despite best efforts, not all countries are on the same page as far as interpreting the requirements goes. Having a conversation earlier on with your health authorities will also allow you to see what they find most important and learn about potential possibilities for your contamination control strategy.
If you're a CDMO, have a conversation with key customers to come to an understanding of what has to be done and an agreement on timelines.
Develop a plan for potential delay in implementation that includes the following three actions. First, articulate the reason for the delay and show that those reasons were beyond your control as the manufacturer or CDMO. Second, show a commitment to the proposed alternative implementation date–the regulators may not accept it still, but at least they might see your company is committed to meeting requirements within a reasonable amount of time. Third and most importantly, complete an assessment of the risks posed by the delay in implementation along with a list of controls in place to mitigate the risks and ensure patient safety.
Contract service organizations coming into compliance
CDMOs have extra pressure placed on them to have an in-depth understanding of where responsibilities for compliance fall and to properly translate the new requirements into their processes to support their clients' compliance. If contract operations are not compliant, their reputations can suffer, which will impact their business. And as Baseman highlights, CDMOs occupy such a prominent part of the supply chain and are relied upon so heavily by the industry, that if these contractors are not compliant, the final implication would be drug shortages.
Part of the challenge to compliance, however, is that CDMOs must make both regulators and customers happy, and their customers may not always interpret regulations in the same ways. To this, Gori suggests that CDMOs create a sound plan discussed with their health authorities, and then have the confidence to defend their position and explain to their customers how they are in compliance.
"Do this rather than to try to satisfy each and every client's interpretation, because you first have to comply to your health authority," says Gori. "You are responsible for your facility, you are the one who has the GMP certificate, not your client."
A level of transparency and open discussion on the CDMO side will also build confidence in the customer that the company knows how to control its processes. The customers can also help the CDMOs on a practical level through well-defined roles of responsibility and quality agreements to avoid any finger-pointing and develop more than a commercial relationship but a CDMO-client partnership.
Where do ATMPs fit in?
Though an impressive step forward for industry regulations, some sections of Annex 1 can be misinterpreted or unclear. One such aspect is where Annex 1 fits with advanced therapy medicinal products (ATMPs). Baseman says its yet unclear where regulators stand on the topic as Annex 1 is not necessarily a compliance document for ATMP manufacturers. However, if it includes aseptic processing, the principles in Annex 1 should apply.
PDA concludes that regardless of whether the Annex 1 document becomes a strict requirement for ATMPs, the principles presented in the document for aseptic processing are the same principles that should be followed by any drug manufacturer, regardless of product type. ATMP manufacturers should therefore make themselves aware and follow many of the requirements and recommendations.
With the potential impact to ATMP manufacturers, Gori and Baseman say Annex 1 may have broader applications.
Benefits of implementation
Though the Annex 1 document has room for improvement and clarification, it is proof of a partnership among health authorities and industry, providing direction and ultimately help to the public health. Implementation of Annex 1 requirements will lead to increased harmonization of requirements across the world, according to Gori and Baseman. It will also provide input to better understand manufacturing and control processes, which will result in higher process reliability and equipment modernization in sterility assurance.
The Annex 1 requirements have forced manufacturers and CDMOs to assess their processes and strive to better control them by evaluating what is important. This leads to the industry gaining knowledge and potentially more control over the processes, which could increase authorities' confidence in the industry. Gori expresses a hope that the common ground created by the Annex 1 document will also lead to health authorities providing and heeding feedback from one another.
The document also reflects how technologically-driven the industry is with a more modern approach to sterile product manufacturing in a more collaborative effort between regulators, industry, and technology owners.
"There were several iterations of the revision and sets of comments and discussions that went into this document. I am impressed with how well the health authorities listened to the comments of the industry. What comes out of this is not just the regulators telling us what to do, but this open dialogue [which generated] a very rich and useful document that's more comprehensive and modern," says Baseman.