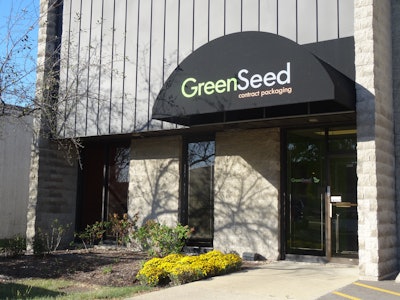 GreenSeed, a successful and rapidly growing contract packager of dry natural foods based in Batavia, IL, is not just a place to pick up a paycheck, says David Gray, President and Chief Growth Officer of the company. It's also not a place housing packaging equipment with the latest bells and whistles; the machinery is functional and adaptable, and it gets the job done. What sets GreenSeed apart is its business model, strategy, and culture.
"Our number one focus when we began the company was to create an environment that was enjoyable and where we'd feel good about what we were doing at the end of the day, which is supporting a mission of changing the way the world sees food by enabling people to have better food products, and being a piece of that puzzle," says Gray. "That's what we were seeking from the very, very beginning."
Founded in 2009, GreenSeed Contract Packaging, Inc. has grown from a 30,000-sq-ft plant to 120,000 sq ft in just eight years, providing like-minded companies with a range of flexible packaging services. Its plant offers all the vital certifications and quality controls, and has just equipped 60,000 sq ft of manufacturing space to handle products that contain allergens.
But beyond the bricks and mortar, Gray describes the organization as a social giver, a people defender, and an idea liberator. "Those three buckets are going to drive our continuous growth as being unique and different as an organization, and make our culture a place where people grow," he says.
'A treasure underneath a rock'
According to Gray, who came from the private equity sector, developing the business plan for GreenSeed was a matter of "finding a treasure underneath a rock." He says, "Contract packaging definitely wasn't a business model that was unique, and the barriers to entry were fairly low. If you have the money and you want to jump into the space, the equipment's out there."
"It really started me thinking about how we could create something unique," he adds. On the one hand, they could grow their business with a commodity mentality, through lower costs, but that strategy, given the number of co-packers in the market, didn't seem like a great opportunity to Gray. The other option was to offer something unique, such as IP, or find an underserved market.
That underserved market, they discovered, was the natural foods industry. "No one had dedicated a packaging company to support that growing segment," Gray says. "So, our strategy was to become the premier company for natural foods packaging—the most sought-after thought leader in the market."
GreenSeed coupled this with their observation that packaging was moving from rigid to flexible, led by the Asian market. "We believed that trend was going to eventually meet us in North America, so we invested our capital toward that type of packaging technology," Gray says.
The first couple of years, Gray admits, were challenging, consisting of finding access to technology, capital, and labor, building a reputation, and developing a pipeline. "But at some point, you cross the tipping point, and then all of a sudden, the floodgates open," he says. "Then the question becomes how do you manage these opportunities, and then manage them within the existing infrastructure."
GreenSeed started its operations in a 30,000-sq-ft former co-packing plant. In 2013, the company expanded its facility to 60,000 sq ft, and in 2015, to 120,000 sq ft. Today, GreenSeed has 200 employees, with the new allergen building scheduled to open in January 2018.
Supporting healthy foods in a variety of ways
As mentioned, GreenSeed's specialty is flexible packaging; it offers pouches, including stand-up reclosable, stick packs, and large-format and single-serve formats. One area experiencing a lot of growth, Gray says, is the single-serve snack market—"healthy snacks for kids, teenagers, and adults in small, portable sizes to support an on-the-go lifestyle."
Among GreenSeed's other capabilities are composite-can packaging and secondary packaging, including carton and case packing for retail, club, and e-commerce. On the food processing side, it can provide blending and ingredient sourcing. It can also direct customers to partner suppliers, including those offering packaging materials as well as food manufacturers, at the ideation stage.
The company's facilities are SQF (Safe Quality Food) Level 3-certified as well as cGMP, organic, gluten-free, and non-GMO-certified, which is critical for its success. "Playing in the space we do today, we would not be in existence if we didn't have a really strong quality team and programs in place, including the documentation, the training, and the systems to be able to manage these types of projects," Gray says.
The products packaged by GreenSeed include dried and extruded snacks, freeze-dried fruits and vegetables, ancient grains, such as chia, hemp, flaxseed, and quinoa, fruit snacks, and powders, among others. With its new allergen building, the company will be able to package products in growing categories such as paleo and gluten-free items. These include nuts, seeds, granolas, healthy chips, powders, and baking mixes that contain ingredients such as almond flours or pea protein.
"It's a really exciting time for us," says Gray. "Historically, a portion of our business has always been in the baby/toddler space, and we're managing some pretty large multinational accounts. In that scenario, you just can't play with allergens. So, over the years, we've left a lot of deals on the table because the risk of introducing an allergen into our plant was just not acceptable."
As for the plant's packaging equipment, agility is key; being able to move a piece of machinery from one production room to another is vital. Although Gray wishes more automation could be used within the plant, today's food market isn't like that, he acknowledges: "It consists of shorter runs. That is the mindset we adopted early on, and we have adapted to it, which I think has allowed us to be successful. We've had to develop a very fluid, agile system, and at the same time be able to offer that same quality program with all these changes."
A purpose-driven environment
Since its beginning, GreenSeed has sought a certain type of customer: a like-minded company that, at the end of the day, through the experience, will enable both businesses to grow personally and professionally. The sweet spot, GreenSeed has found, are middle-market companies focusing on the natural foods market that fall under large Consumer Packaged Goods companies, but are run autonomously from them.
"Natural food companies are unique cultures," says Gray. "Typically, they are driven by a leader who is passionate about providing something authentic and is passionate about working with a team of people that has bought into that mission.
"What we've tried to do from a relationship standpoint is meet them where they're at by creating an environment that duplicates their own. We've tried to be much more purpose-driven in the way we go about our lives, creating a culture where everybody matters.
"We're striving to have a stronger purpose in this whole value system in manufacturing—not just a transaction, not just a place where you pick up a check. We really believe a 21st century manufacturing company should be a learning institution, and that we should learn and grow together, which once again comes back to the idea of like-minded companies."
Many of these like-minded companies, he notes, are entrepreneurs who, as new parents, looked at the foods available to their infants and "were appalled." While these new enterprises may have begun by creating better-for-you foods for babies, they didn't always stop there. As their children grew, so too did their product lines, as they introduced foods for toddlers and then young children.
"We've had a chance to grow with a lot of these business leaders who have a vision that's better for our society," says Gray. "It's really taken off, and once again, it's been one of the really cool results of us taking this initiative to have a strategy to be a leader in packaging for natural food companies."
Within its four walls, GreenSeed strives to be a place where employees can be themselves. One group within the organization that Gray says is a catalyst for the idea of being a 21st century learning institution is "The Tribe." The Tribe is a group of individuals nominated for "their humility, their grittiness, their work ethic, and their ability to be real." The group, he adds, has driven the company culture from the ground up in terms of defining the company and how it is unique and different.
A seed begets growth
From a financial standpoint, GreenSeed is helping some customers grow even more quickly through its Partnership Platform. Through this program, it is providing capital, packaging, manufacturing, and brand management expertise to optimize the production of its partners.
"We're definitely trying to meet the market, where more and more food companies are popping up trying to disrupt traditional markets," Gray says. "As a result, a lot of them are seeking investments, and we thought we could definitely provide that to unique companies." So far, GreenSeed has partnered with three companies.
Through its business model, strategy, and culture, GreenSeed is differentiating itself as a company committed to purpose-driven growth. Says Gray, "The name GreenSeed stems from the color green, which is the color of growth, and seed, as we know, is about growing something. You plant it, and then if you nurture it, it becomes something special. That seed is our community. That seed is our people. That seed is our clients."
Companies in this article