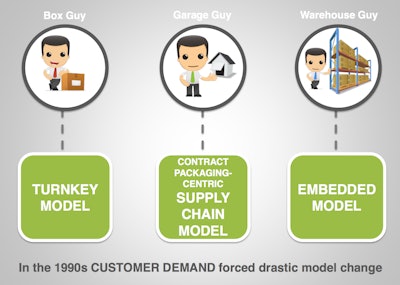 Being situated between brand owners' view of the world and the retail customers those brands serve, contract packagers are "uniquely positioned to look both up and down the entire supply chain," says Eric Wilhelm, CEO of
Coregistics
, based in Cranberry, NJ., adding that those same brands—manufacturers and consumer packaged goods (CPG) companies "have traditionally mismanaged contract packagers."
The reason, he says, is that CPGs too often treat co-packers as minor vendors and not true partners, limiting their involvement strictly to packaging labor issues. The key to successful brand/co-packer relations is to treat the latter as a brand, not just a vendor and not just someone who does traditional, core packaging operations.
Wilhelm offered these thoughts in a presentation at the 2012 Pack Expo in Chicago, where Kevin Hall, his chief operating officer, also spoke on the topic of late-stage customization. (This was covered separate
article
.)
Wilhelm gave several examples of how contract packagers can partner and improve brands' business, including the following:
Salad dressing: In one case, a major salad dressing brand, facing a global launch of convenience salad-dressing tubs, installed a multimillion-dollar line. Facing an unmovable ship date, company personnel found that "the could make the tubs and they could close the tubs, but they couldn't wrap them" using the new machinery. The solution: A contract packager was tapped to provide 10 manual lines to hand-glue and assemble the cartons for roughly six months. The contract packager "set themselves goal, a goal you don't usually see," Wilhelm said, "to run these guys out of product every single day." This not only involved the ad-hoc hiring of more than 300 people to provide "unlimited capacity," but the agility to quickly source and set-up "every single inkjet coder that was available in the Southeast" in only 48 hours. This saved the not only the launch but the brand's credibility.

Confectionery displays: Another brand was facing major bottlenecks in assembling a new variety pack display for Costco warehouse stores. A contract packager's design, capacity and entrepreneurial capabilities has turned that opportunity into a 12-year display program became what today is a display program generating $400,000,000 in sales. This was made possible when the companies partnered to "break through the SAP firewall" and integrate data on the movement of materials and goods in an "available to pack" view. Visibility of SKUs and supplies has saved days of delays and calls, driving additional top-line revenue opportunities.

A glove manufacturer had roughly eight different displays, but never concentrated on displays for club stores. The contract packager arranged a meeting with the glove manufacturer's owners, and brought to the meeting additional parties including a display company, a card company, a blister pack company—all of whom had club channel relationships. "That contract packager today is running 24/7 on two blister lines Wilhelm said, filling seasonal club-store projects that the glove company "never would thought about, and never would have called on."
If Wilhelm stirred the Pack Expo audience with criticism of some CPGs, the good news is that "progressive CPGs are taking advantage" of co-packer capabilities in much broader relationships encompassing packaging innovation; decoupling of bottlenecks; late-stage differentiation; data sharing; increasing capacity and flexibility, and being part of an open set of networks and relationships.
How today's complexity came to be
Through the 1980s, the CEO explained, late-stage customization increased to the point that by decade's end, it applied to 20% of all consumer products being were receiving. Thought the 1990s, more erstwhile box suppliers would become turnkey co-packers; "garage guys" would become supply chain partners and warehousing experts would established embedded outsourcing services, such as those who run packaging operations inside their customer's warehouses or distribution centers. (See Fig.1, above.)
Since the 1990s, all three models have coexisted in various forms to meet consumer and customer demand. Today's contract packaging industry is characterized by a profusion of services, resulting from an increasingly complex set of demands. (See Fig. 2, above.)
Continuing evolution and consolidation now points to more tightly coupled partnerships such as embedded operations. The challenge for contract packagers today is to continue evolving to adopt a full-fledged service model. And the challenge for brands is to more fully realize the long-term value of such partnerships, and nurture their growth to realize untapped profits.
Companies in this article