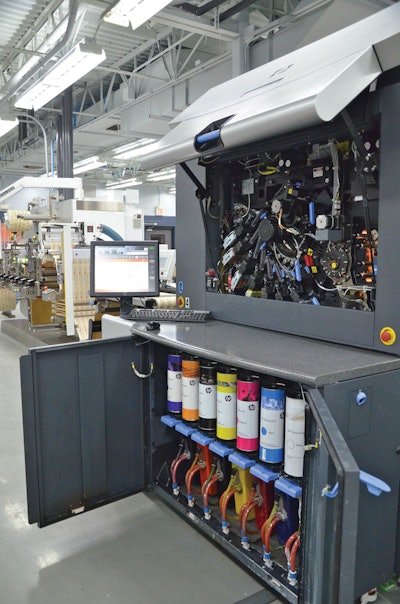 Long regarded as one of the leaders in the ongoing and rapidly accelerating growth of digital printing in the label and packaging space, Innovative Labeling Solutions has taken digital printing another step forward by assembling what it calls the world's first complete in-line digital print production line. Because it efficiently integrates in one line operations that have traditionally been carried out separately and sequentially, this move will reduce production steps, minimize work in process, and improve overall operating and economic efficiencies.

At the heart of the new line is one of the three HP Indigo WS6000 digital presses from HP in operation at the Hamilton, OH, facility of ILS, which produces not just labels but also a broad array of folding cartons, shrink sleeves, and flexible packaging, too. The other two components joining the press in the single integrated line are an upstream HP corona priming unit and a downstream finishing system from Delta Industrial Services. To best understand and appreciate the operating efficiencies this in-line integration brings, it helps to take a look at how priming and finishing are done conventionally. We'll start with finishing only because ILS put its Delta Spectrum II finishing system in line with the WS6000 before yoking the in-line priming unit into the line.

"Finishing" in this context means a number of things. In some cases it refers to finishing steps such as die-cutting that are involved with conventional printing. But this is digital printing, so it also means things that are inherently necessary when printing with HP Electroinks. For example, a post-print lay-down of varnish or an overlamination of a clear protective substrate is always necessary to protect the inks. Because it can now be done right in line, it saves a lot of time on the set up that would be required if the substrate had to be taken to an off-line varnishing or laminating station. Sean Gallagher, director of innovation at ILS, provides other examples of the advantages of inline finishing.

"If we need to flexographically apply a spot color, we can do that on the Delta Spectrum II, so we can avoid the set up time and queue time it used to require when it was done off line. We're also seeing better, tighter registration by applying that spot color in line. Or look at the shrink sleeve labels we produce. In one smooth pass we are now able to digitally print, apply our COF [Coefficient of Friction] varnish, and slit all in line. It's all so much more efficient."

In-line finishing also helps on jobs where metallic inks are involved, says Gallagher. "The Indigo digital press can't print metallic inks because of the electromagnetic charge of the ElectroInks. So we normally have to lay down those metallic inks flexographically on a second station. Now with this in-line configuration, we don't have to mount the substrate on an off-line press. We print the metallic inks flexographically on the Delta Spectrum II."

Priming is inherently necessary

And what about in-line priming, which takes place ahead of the WS6000 press? Priming with a corona treatment is essential in the world of HP digital printing because the electro-static ink—which is a dispersion of electrostatically charged, pigmented plastic material in a dielectric liquid—will only bond to a primed substrate. Before the arrival of in-line priming, converters like ILS had two options. Either purchase substrates that were pre-primed by the substrate vendor or prime substrates in-house, usually on a flexographic press. Both of these options come with shortcomings. With pre-primed substrates, not only does it add a cost, it also opens the door to potential quality issues if the priming isn't done right. As for priming in-house, it also comes with at least two drawbacks. First, it means tying up a flexo press and then using only one station on that tied-up press to apply the primer. And second, it introduces an inherently inefficient and "un-lean" method of manufacturing that involves planning, storing, moving, and keeping track of work in process.

"As soon as HP came out with in-line priming, we purchased one unit and tested it for about a month or two on one of our three WS6000 presses," says Gallagher. "Within three months we'd ordered two more. There is no question about the benefits, especially not having to tie up a large asset like a flexo press to lay down the primer. It also reduces material waste and primer usage overall. One of the other benefits we're noticing with in-line priming is that when the substrate emerges from the priming station, the primer is still warm. It improves the bond of the inks because they are more attracted to the substrate."

One good example of a beverage product whose marketplace appearance benefits from ILS's in-line digital printing prowess is Chicago-based Argo Tea. When they approached ILS about three years ago, they had about 30 or so SKUs. The volumes in each SKU were sizeable, but for a conventional converter using flexo technology, producing shrink-sleeve labels for such a customer would have involved abundant prep time and numerous plate changes because of the use of iconic graphics for each flavor. At the same time, some converters, even if they had the benefit of digital printing, would have balked at taking on an assignment where the volume was as high as it was. As Gallagher puts it, "Argo Tea was kind of in a gray area."

ILS took them out of the gray area because it was able to produce the quantities and varieties that were called for. "One of the things they liked about digital was that we were able to supply sale samples, press proofs, mockups, and product launch inventories all at a reasonable cost in a reasonable timeframe and actually give them a product that would look exactly like what their final production labels would look like," says Gallagher.

Since ILS took on the Argo business, the number of SKUs has only increased. Argo is even able to customize labels for a charitable outreach program they have. For example, they can order a modest number of labels for each of several charities knowing that ILS, needing minimal time to change from one charity's logo to the next, can produce the volumes needed at a reasonable cost.
Label material in the case of Argo Tea is PVC that is printed CMYK plus white overprint varnish. The printed material leaves the in-line HP/Delta printing and finishing line and goes to a Karlville shrink sleeve seaming system that uses a bead of adhesive to fold the flat film into one long continuous tube. The tube is rewound on a roll and shipped to Argo Tea's contract packager.

St. Louis-based Precision Foods is another beneficiary of ILS's in-line digital production capabilities, this time with a pressure-sensitive label that decorates the firm's Orrington Farms brand of seasonings and soup bases. Cut and stacked, glue-applied labels were used formerly, but with a recent redesign came a switch to digital printing for greater graphic flexibility and a textured stock that has elevated the brand to a premium position in its category.

"I don't know that in-line priming, printing, and finishing is a solution for everyone who installs a digital press, but it has been a very good thing for us, and for our clients," says Gallagher by way of conclusion. "It gets the job through our shop quicker and brings us some welcome cost advantages."