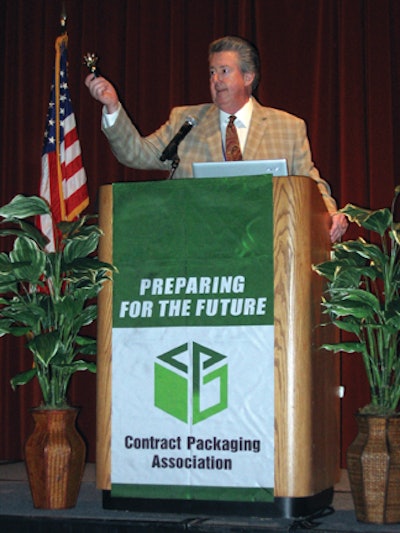 The world simultaneously is changing on so many fronts that it takes an immense collective effort to sort it out, develop a plan, and then be certain it remains on target. And finally, monitor effort against progress at every turn. The Contract Packaging Association is doing just that, and beginning to see real progress.
That which was not formalized before is now being formalized and made more accountable. Every program, initiative, and activity must educate and provide a benefit to the members and the customers they serve.
As this infrastructure becomes more highly developed, the need for larger contract packagers to become involved with the association becomes greater. In a still highly fractionalized condition, largely privately held companies are learning quickly that nothing is more beneficial than knowledge, networking, and cooperative effort. All of us together know far more than any single entity. Growth of the business of contract packaging will involve all company sizes—from the smallest to the largest, and everything in between. Why? If you are not involved and engaged, your company very likely is falling back. Can you afford to take that chance?
Developments in the industry
Mergers and acquisitions are on the rise in the contract packaging industry, and they will continue for several years. This packaging-service business will continue to grow at 15% to 18% per year for several years. The current economic condition will accelerate growth because of the lack of capital. More and more companies never before using contract-packaging services either are examining the alternatives or already have taken the plunge.
Speed-to-market is one growth driver, but there are others. It is many more forces all at work at the same time. It is global. No one, no country, is excluded. There is a newly formed European Contract Packaging Association. Other associations are being formed in different parts of the world. The need for contract-packaging services is universal, no matter the name: contract packaging, contract manufacturing, co-packing, third-party manufacturing and/or packaging, private-label manufacturing and/or packaging … the list goes on.
Furthermore, contract packagers are being called on to buy and specify the "tools" of the project, including: containers, materials, components, machinery, and other services. If you are going to package my product, says the brand owner, let's talk about product formulation or assembly first, then warehousing, and finally distribution and other logistics at the end. In simplest terms, the process is make, package, hold, and move, and it is a turnkey operation. If packaging always has been a "necessary evil," why can't the same be said about the rest of those similar tasks that get in the way of owning and molding a brand?
The Contract Packaging Association has just concluded a highly successful annual meeting Feb. 18-21. The temperature in Naples, FL, was mostly cooler than expected, but that was the only element that fell a bit below expectations. In round numbers, we reached 250% of our reserved-room block, twice the number of attendees and spouses ever, and welcomed 20 non-members looking to learn if membership will be of value. We also conducted our most robust business program ever; displayed great tabletop exhibits; and enjoyed the best networking, social, and recreational events in memory. Most important, business was conducted.
This confluence came together with the membership (both contract packagers and suppliers to contract packagers), board, staff, legal counsel, committee chairs, and their committees (particularly the meeting chair and her committee), sponsors, exhibitors, speakers, business press, and spouses and guests.
The theme of this meeting was "Riding Out the Storm." The "all clear" has not yet been issued; we have work to do, and those eminently qualified to help us make it through "Lessons from Survival Masters" continue to lead the way. Thank you.
Research project
To accelerate the process, the association continues to conduct meaningful research for its members as a member benefit. The most recent research examines packaging professionals' actions, opinions, and interests. It provides important industry information concerning the users of and suppliers to contract packaging, and contract packagers themselves, as well as their interest in and relation to the association.
The association also has launched an advertising, promotion, and publicity campaign. The goal is to increase awareness of and preference for the association as the premiere organization serving the needs of everyone involved in the contract-packaging service business.
Association President John Riley tied these thoughts together with his "CPA: Yesterday, Today, Tomorrow" presentation at the annual meeting. Riley gave credit to those who started it all many years ago, those who came in to assist, and those who carry forward today. The bar has been raised. Those who will move in now must act swiftly but carefully as we face the future. Because of the work done to this day, we may confidently say that "The Contract Packaging Association is the only packaging partner you will ever need."