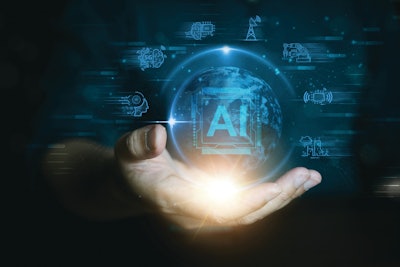 The use of Artificial intelligence's (AI) in the packaging market is projected to reach a value of $2,080.8 million in 2023 and is expected to grow to $6,015.6 million by 2033. That's according to Future Market Insights, which adds that the sales of AI in packaging are forecast to have a significant CAGR of 11.20% during the forecast period.
As the report explains, AI in packaging refers to the use of advanced technologies like machine learning and computer vision to improve various processes in the packaging industry. AI systems can analyze images to detect defects in packaging materials, ensuring high-quality products reach the market. It also aids in supply chain management by optimizing production and distribution processes based on historical sales data and market trends, reducing costs and stockouts. In addition, AI algorithms can generate personalized packaging designs and recommend suitable materials based on consumer preferences, market trends, and product data.
---
---
Future Market Insights adds that the demand for smart and sustainable packaging has created opportunities for AI-driven innovations such as active monitoring systems, temperature-sensitive labels, and interactive packaging experiences, enhancing product safety and consumer engagement.
Key trends identified by the report include predictive maintenance, quality assurance through computer vision, supply chain optimization, voice and image recognition for hands-free operations, and data analytics for insights into consumer behavior and operational efficiency.
The report points out, however, that there are a number of barriers to adoption of the technology, among them the high cost of implementation for smaller companies. In addition, data privacy and security concerns need to be addressed to ensure the protection of sensitive information. Integrating AI technologies with existing infrastructure can be also complex and pose a challenge for companies with established systems. The report also advises that ethical and legal considerations, such as bias in AI algorithms and the impact on human labor, also need to be carefully addressed. PW
---
---