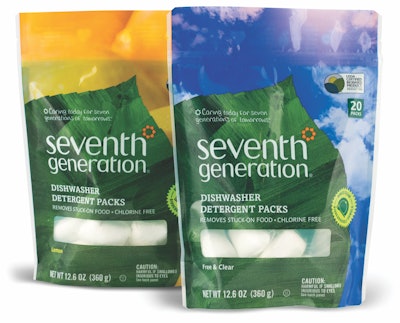 With its light weight and ease of transport, flexible packaging has long been lauded by producers for its environmental footprint. However, until recently, the fly in the ointment was the fact that the multiple film layers used to provide various functional properties made it unable to be recycled. But a raft of new mono-material film options have been introduced that provide the same functionality while being recyclable in store drop-off locations.
According a recent market report from Smithers, "The Future of Mono-Material Plastic Packaging Film to 2025," the demand for mono-material flexible polymer packaging will reach approximately 24 million tons and a value of $58.9 billion in 2020. It adds that by 2025, the growing demand by brand owners and consumers for more sustainable solutions will see this market accelerate at a CAGR of 3.8% to reach $70.9 billion, with a total of approximately 29 million tons consumed. 
Smithers' analysis tracks the demand for the four principal mono-material packaging film constructions: polyethylene, polypropylene (including biaxially oriented PP, oriented PP, and cast PP), polyvinyl chloride, and regenerated cellulose fiber (RCF).
---
Read related articles from Packaging World magazine:
Kellogg, Bear Naked's Stand-Up Pouch Takes Circular Route to Recyclability
Will Monomaterials Become the Standard in Flexible Packaging?
Compatibilizer Makes Pouch Recycle-Ready
Recyclable Mono-Material Pouch Uses One-Way Valve to Keep Soft Pet Chews Fresh

Seventh Generation Introduces Recyclable, Flexible SUP
---
According to the report, PE is the most widely used polymer for mono-material film packaging, accounting for over half of forecast global consumption in 2020. It will see strong growth through to 2025, but will be outstripped by rising demand for PP grades. RCF use will rise only slowly over the forecast period, and demand for mono-material PVC will decline as alternative solutions are adopted by converters. 
Smithers' research shows that fresh foods, snack foods, and confectionery are the largest users of mono-material film in 2020. It adds that fresh foods will see the most rapid increase in demand across the next five years, while the growth in snack/confectionery segments will be more muted. Other fast-growing applications for mono-material film packaging include chilled foods, frozen foods, and pharmaceutical and medical products.
Currently, Smithers says, mono-materials have technical limitations in certain packaging applications, making further R&D to overcome these limitations a top priority.