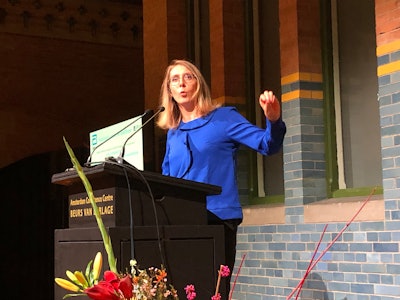 Global healthcare products company Abbott is on a mission to not only help people live longer, but also to live better. One of the ways the company hopes to accomplish this goal with its $4.4 billion pharmaceutical business is through connected packaging. That's according to Emilie Peltre, Senior Principal Packaging Engineer for Abbott in Switzerland, who opened the Abbott Connected Health Challenge at the AIPIA (Active & Intelligence Packaging Assn.) World Congress today in Amsterdam. Long a fixture of the event, the packaging challenge gives technology companies the opportunity to pitch their smart packaging solutions to a major brand owner in a "lightning round" of presentations.
Explained Peltre, Abbott is the only global company whose pharmaceutical business is 100% focused on emerging markets, offering high-quality generics and related services. "Markets are very diverse," she said. "We use local insights to drive innovation around value through products and through the services that can be had around the products.
"Every day, 14 million people are using our medicines. We see that the landscape is changing in emerging countries related to quality. In the past, it was not always easy to get products of good quality. Now, quality is no longer a differentiator. Now people not only want the products, but they also want the services around the products. You may have heard of it as 'going beyond the pill.' So this is what we want to do.
"Of course, we'll always have new products of good quality. But we also need to add something different. Where we can be much stronger is making the connection between the product and the services. And this is where packaging enters. The first thing that people see is not the drug product itself, it's the packaging. One of the jobs of packaging is to communicate. So we are trying to learn what could be the best lever for packaging to springboard people from the drug to the services. That's why we are here today."
"In its brief for the challenge, Abbott noted that the solution had to:
· Be a one-click solution, connecting packaging to smartphones
· Align directly with the EU Falsified Medicines Directive
· Comply with the Global Data Protection Regulation
At the conference, 13 technology providers each gave a four-minute pitch on how their smart packaging technology could provide Abbott with a connected health solution. From these, three companies were selected by Abbott to meet with them at their facilities in Switzerland to provide more extensive information. The 13 companies—in alphabetical order—and their technologies were as follows (with winners noted):
· Arylla—Challenge Winner: This company's technology comprises invisible ink for product serialization. Explained Perry Everett, Business Development for Arylla, the company started a few years ago to overcome brand owners' challenges with connecting digitally at scale. Applied via ink-jet equipment, the company's ink includes nanoparticles that can be detected with Apps that are already on consumers' phones, including WhatsApp and Google Messenger.
· Constantia Flexibles—Challenge Winner: Through its Constantia Interactive and Constantia Digital divisions, the company can print digital codes (type not mentioned) that can connect with a smartphone for notifications, reminders, chatboxes, e-refill, etc. It's interactive solution includes high-end printing technology, customized app programming, and consumer-oriented data management.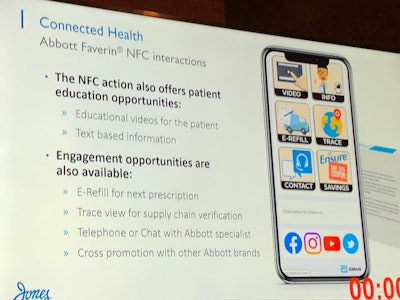 · Jones Packaging: As James Lee, Director of Innovation Solutions Group for converter, packaging supplier, and contract packaging company Jones Packaging explained, the company offers two printed electronic cards for patient adherence. They can print conductive traces acting as sensors in a variety of medication packaging formats, and they can apply and verify various NFC tag formats at different stages of the converting process. For the challenge, Jones detailed a solution for Abbott's Faverin® antidepressant product in a blister pack. By adding an NFC tag to the packaging, consumers would be able to detect the open/sealed state of the package, receive educational information via text and/or video, e-refill their prescription, engage with an Abbott specialist, and more.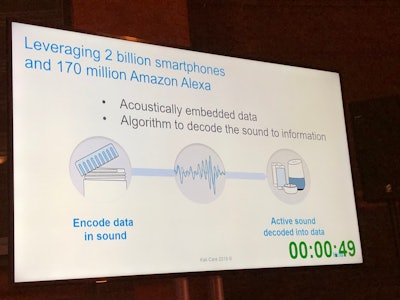 · Kali: Sina Fateh, Founder and CEO of Kali, discussed the company's cloud-based communication and smart sensors for end-to-end monitoring of prescription medication. The unique technology uses acoustically embedded data—e.g., the sound of a cap removed from a pill bottle—paired with an algorithm that decodes the sound into data via a virtual assistant such as the Amazon Alexa. It uses no Bluetooth, no batteries, and no Wi-Fi.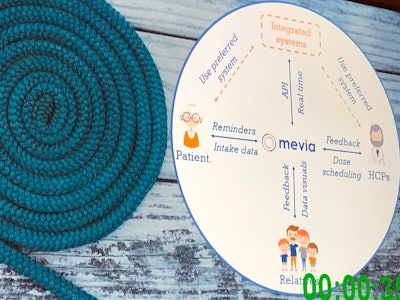 · Mevia: Specializing in connected packaging for adherence, Mevia of Switzerland demonstrated its technology for oral medication. When the user takes a pill out of blister packaging, a corresponding printed electronic trace breaks, and the device transfers the data in real time to the user's App or to a hub. The GSM device has no pairing issues—it works anywhere—and it can provide circular health, by alerting the patient's relatives or healthcare providers about medication adherence.

· NXP Semiconductors: Also for medication adherence, Frederic Vicentini, Senior Manager Business Development,​ for NXP presented the company's NTAG fully-integrated single-chip solution. The Compliance Logger, as it's known, features a sensor interface that is comparable with different kinds of sensing methods to allow for adherence monitoring. The NFC tag connects with mobile devices and downloads the data to the cloud. The solution can be used with formats that include inhalers, blisters, pill bottles and injector pens.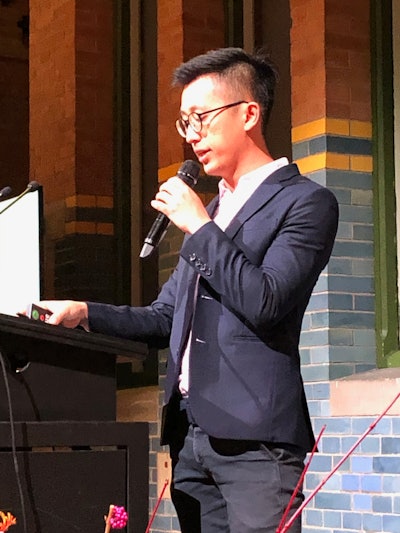 · PBrain: Touting "the power of codeless," Youhong Xiao, Founder of PBrain, described the company's AI chatbot builder platform. Noted Xiao, the solution is flexible, as it uses adaptable chat logic, supporting multiple use cases; is easily integrated with external services; and it supports multiple languages. It's also cost effective, as it does not require any heavy investment in technical expertise, and it scales with user's load and usage. And, it offers quick deployment—clients have successfully deployed within a month, Xiao shared.
· PragmatIC: Said Dr. Alastair Hanlon, VP of Sales for Pragmatic, the company has introduced "technology to revolutionize semiconductors" in the form of low-cost, flexible integrated circuits. The technology can be used for authentication, consumer communication, and wearable devices. PragmatIC FlexICs are a fraction of the cost of silicon based ICs, supporting a range of functionality, including RFID and NFC. Said Hanlon, the technology opens up opportunities for introducing item-level digital traceability and interactivity into high-volume items.
· Seidel GmbH: This company's solution focused on creating packaging to ensure the proper use of ointments. According to Martin Maciossek, Director Business Development for Seidel, ointment products are very often used incorrectly. "They can be overdosed, underdosed, not stored correctly, or kept beyond their expiration date," he explained. For this, Seidel proposed a dosing pen with Bluetooth connectivity that connects to a smartphone via an NFC tag. Said Maciossek, it can then connect directly with the consumer and can be used to learn about their behavior using the product.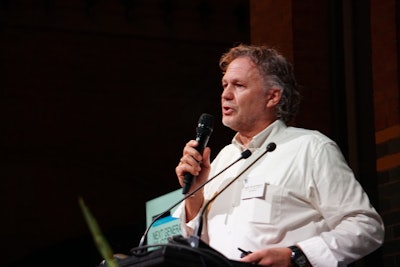 · Sensinxs: This company's Smart Healthcare Platform uses Bloothtooth technology with tags that have been developed by the company. According to presenter Marc Van de Meent, Business Development Manager for Sensinxs, the company's tags are very inexpensive and can be connected with smartphones or other devices.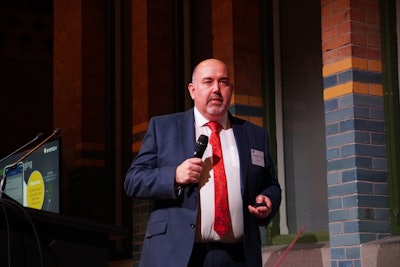 · Systech—Challenge Winner: As Alastair Taylor, Vice President of Sales EMEA for Systech, explained, the company's technology takes advantage of existing printing technology investments to create unique identifiers for medication packaging in order to fight counterfeiting. As he noted, when printed, 1D and 2D barcodes and QR codes have microscopic deficiencies that don't hinder the code overall, but can be captured by Systech's technology to create a unique identifier for each product. This item DNA can then be accessed throughout the supply chain, even until consumer use.
· Talkin' Things: For Abbott's connected health packaging, Talkin' Things proposed its NFC smart tags with embedded authentication technology designed specifically for the end users' application. Said Company CEO Marcin Pilarz, "The technology is easy to apply and integrate."
· The Axia Institute, part of Michigan State University: The university's AXIA Institute, which focuses on value-chain solutions, presented RFID as a way to create connected health. Via an RFID tag, consumers can authenticate the product and can be alerted to product recalls.