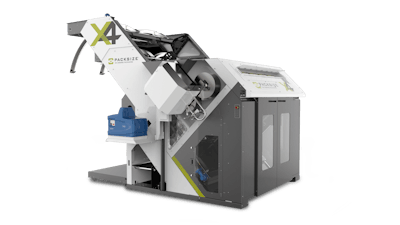 The dynamic system provides distribution and fulfillment customers a high degree of automation to meet the growing challenge of rapid packing and shipping. The highly reliable X4 assesses and creates the most efficient and complete right-sized box for each individual order to eliminate unnecessary void fill and reduce shipping costs, among other benefits.
The small footprint of the X4 adds to its flexibility, allowing for a box to be erected and inducted onto a conveyor line, placed on a cart, or packaged right next to the machine. Packaging managers can orchestrate and manage single-piece, batch, and demanding corrugated packaging workflows. The unit can also be deployed in a multiple-machine environment alongside other Packsize systems, or placed in a two- to four- machine configuration to produce up to 1,200 boxes/hr.
Integrating sustainability into the e-commerce supply chain, the X4 includes multiple infeeds to accept up to four widths of corrugated z-Fold. The machine's versatility with this reusable resource achieves a wider variety of box sizes needed to quickly pack every order.
Companies in this article