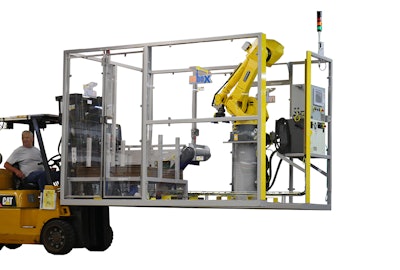 The pattern generating setup software, introduced for Robox machines, automates layouts in palletizing. The software provides users with an assortment of solutions, based on various case dimensions and usage. Operation is simple and guided through the human-machine interface, so nearly anyone on the floor can operate the software.
The standard manufacturer's software is designed to be open-ended to accommodate multiple uses in the field. The new software can be tailored to fit the specific needs of customers. New products can be set up in less than five minutes, and quick adjustments can be made to accommodate existing patterns for special unit loads.
The Robox is a flexible end-of-line palletizer, designed to efficiently pack pallets of various product types. Constantly evolving since its initial development, the unit features new improvements such as the over/under conveyor, which allows for automatic pallet exchange for continued productivity. Once it is packed, the full pallet is lifted and conveyed out of the cell while the new pallet is transferred to the load station automatically. The palletizing cell never needs to stop operation.
In addition, the Robox offers a through chain pallet conveyor option, a conveyor system that runs directly through the machine. With this option, pallets load as they convey through the Robox and completed pallets continue down the manufacturing line. This option offers the flexibility of integrating the Robox and pallet conveyor with automated stretch wrappers.
Companies in this article