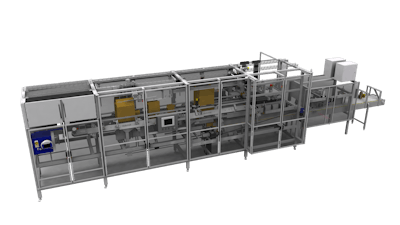 An alternative to the "pick and place" system, the vertical case packer handles products gently with full support from its bottom-loading technology. The new open design offers machine operators increased access to its internal workings, allowing them to easily identify and diagnose maintenance needs more quickly and efficiently.
In an effort to lower the total cost of ownership, the Vertical Case Packer uses servo motion, minimizing maintenance and minimizing the number of wearable parts. This technology reduces energy usage and decreases overall maintenance costs. The machine also has an embedded intelligent LED lighting system to give operators visual cues about the machine, such as low product levels, low case magazines, product jams and tripped safety circuits. With this technology, operators and maintenance workers can easily locate where the attention is needed without having to first locate the human-machine interface and then troubleshoot the problem.
This machine is particularly beneficial to food applications with rectangular or lay-flat cartons, dairy applications with gable-top cartons or gallon jugs, industrial cans and more. It is available in painted or heavy washdown stainless steel construction.
Companies in this article
Videos from Schneider Packaging Equip. Co.