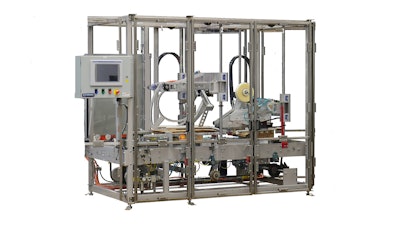 The Sentry line of water-activated tape sealers 3000, 5000 and 7000 are a complete line with speeds up to 25 cases/min. Water-activated tape is a form of paper tape with an adhesive that is activated by water. The chemical adhesive forms a tight bond with the corrugate substrate, creating a very strong seal. It is more durable for heavier packages, effective on recycled board, shows any package tampering and is recyclable.
Schneider's Sentry case sealers automatically fold the case flaps and apply the correct amount of tape for each case size, resulting in less downtime and more throughput.
While traditional pressure-sensitive tapes easily peel back from a package if a heat source is applied and then replaced, water-activated tape does not re-seal. Therefore, compromises to a package are detectable. The stronger adhesive allows users to package heavy objects without concern for the product falling through the box. Unlike traditional packing tape, water-activated tape is biodegradable and is recyclable while still adhered to a corrugated box.
By using water-activated tape along with the Sentry automatic indexing functionality, customers can reduce labor and simplify operations to increase throughput, reduce injury claims and reduce product loss. Sentry machines also have a small footprint: depending on the model, they range from only 8 ft. by 4.5 ft., up to 10.2 ft. by 4.9 ft.
Companies in this article
Videos from Schneider Packaging Equip. Co., A Pacteon Company