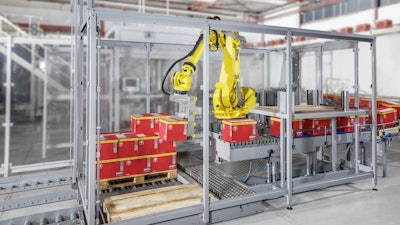 The fully-configurable system is capable of handling 50 cases/min. and 35 pallets/hr. This system guarantees a stable pallet load directly at the end-of-line. The i-Pal has the flexibility to handle various products and applications. It also integrates easily with other up and downstream equipment.
I-Pal's flexible mechatronic design allows for simple configuration and ability to utilize various robot types and control platforms. A custom palletizing system can be retrofitted with any add-on module without additional engineering time. A patented shuffle end effector (for cases, crates and bundles) along with 6-axis robot allow wider range of options.
Additional benefits to end-users and contract packagers include:
25% smaller footprint than alternatives
Modular design with standard components
Speeds up to 50 products/min.
Short lead times starting at 10 weeks
Plug-and-play for quick, 2-day install
Companies in this article