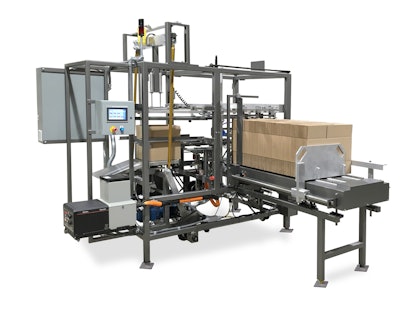 The vertical case handling of this erector forms cases upright and discharges them on their bottoms. The machine can run RSC, HSC, and AFM carton styles.
The WMCE is an entirely mechanical motion, mechanically timed case former that is easy to operate and change over. Case squaring and glue compression is completed with mechanical cam and rotary devices. The compression mandrels include adjustable case squaring cams to guarantee uniformly square cases.
The machine features Allen-Bradley PLC controls with a color touchscreen HMI for an easy operator interface. The system is built on a rugged tubular steel frame and features a polycarbonate safety door system.
Companies in this article