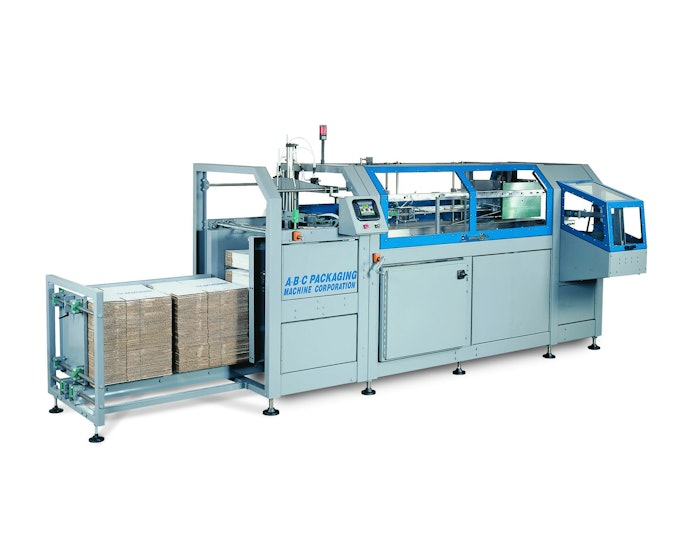 "This case erector offers features to ensure smooth, high volume operation including a servo-operated compression ram and substantial 3 hp main drive motor, plus solid construction, all-mechanical continuous motion drive, high capacity vacuum system, and A-B-C's intelligent control package," said Bryan Sinicrope, vice-president, sales and marketing. The Model 450 has a large capacity kd case magazine that ensures non-stop operation, as it automatically indexes kd stacks when needed, and may be refilled at any time without lifting cases. Optional case magazine extensions are available to allow additional kd capacity.
Features for high speed production include the walking beam case drive which automatically squares cases as they are transferred through the erector, and the servo-operated sealing ram that ensures top precision during compression. A-B-C's Intelligent Control makes high-speed operation automatic and provides real-time operating data, comprehensive production reports, and enables independent operation of all functions, diagnostics, and changeover settings. The erector is built with a solid, welded and bolted steel frame for long-term operation without vibration. It erects and seals RSC and HSC cases at speeds to 50 per minute.
The compact design of the Model 450 (only 16'-9" long) allows easy installation on most packaging lines.
Companies in this article