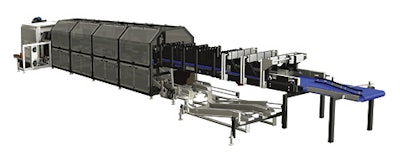 Easy to operate and maintain, the 298 Tritium Trayshrink Packer produces more with less packaging materials, responding to "truck to shelf to consumer" packaging requirements, and reducing waste. New features include a horizontally loaded tray blank magazine, a consistent low-pressure in-feed, and a slide out film bed.
The horizontally loaded tray blank magazine is ergonomically designed: operators can load blanks without bending or stretching and can quickly spot any operational issues. The large tray blank magazine comes standard with a 1500 blank capacity and, as an option, can be extended to hold 3000 or more blanks. Changing from one pack style to another is easy. The machine runs unsupported, so changing to pad or tray style can be done in 15 minutes by simply selecting a new product on the operator interface screen and using a small number of changeover parts.
The 298 Tritium Trayshrink Packer's side film stand makes it easy to load new rolls of film. With its slide out film bed drawer and clam shell style design, maintenance is simple, and operators can quickly and easily recover from a jam. A new meter product in-feed is equipped with electronic sensors that create consistent low line pressure to allow for positive grouping and escapement of product. Smoothly and reliably, the in-feed helps guarantee steady release of product, with no tipping, product damage, or mis-packs.
The machine's high-speed Robo-Wand wrapping module can be fully customized to follow the height and length of the final pack-pattern, providing a consistent, tight, wrinkle-free wrap. With the ability to run up to 120 trays/min., the Robo-Wand also offers multi-axis control for limitless packing possibilities without the need for change parts.
Companies in this article