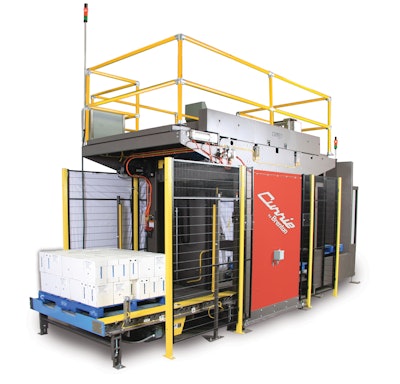 Currie by Brenton, powered by Pro Mach, introduces its new hydraulic free, servo-driven palletizer, the high level infeed HLP. The new fully automatic HLP incorporates advanced servo, safety, and touchscreen controls to deliver unparalleled product handling, ease of operation and investment value.
Servo-driven elevators, row, and layer pushers deliver maximum efficiency and precise, consistent operation on every load. The advanced touchscreen control system is easy to program and stores more than 100 patterns for quick changeovers and easy operation. State-of-the art safety features are designed in instead of added on for reliable, secure unattended operation.
The modular designed HLP accommodates a wide range of plant configurations and is ideal for packaging operations requiring speeds from 30 to over 100 cases per minute. The HLP can serve single or multiple packaging lines, nearby or remotely located. Heavy-duty construction ensures long service life in even the most demanding environments.
"The HLP is a versatile, high speed palletizer incorporating the latest technology and third generation wisdom from more than 100 years of field-proven excellence and reliability," said Jason Bennett, Currie by Brenton Product Line Manager. "We strive to continually better serve our customers by offering unequaled performance and the most efficient and cost-effective solutions for their unique packaging needs."
Currie by Brenton offers a full range of palletizing and depalletizing systems, including standard and custom conventional, robotic, gantry, bulk, and gentle handling solutions. The Currie by Brenton line provides customers with unparalleled capabilities, flexibility, throughput, safety and investment value. Currie by Brenton offers the additional benefit of integrating any palletizer with Pro Mach's end of line solutions for a complete, optimized system.
Currie by Brenton, powered by Pro Mach, will be exhibiting the Currie by Brenton HLP at Pack Expo Las Vegas, September 23-25, Booth C-1920. The HLP will be integrated with six machines from other Pro Mach brands to demonstrate a complete End of Line system.
For technical questions about the Currie by Brenton HLP, please contact Jason Bennett, Currie by Brenton Product Line Manager at 800-535-2730 or at currie@becmail.com.