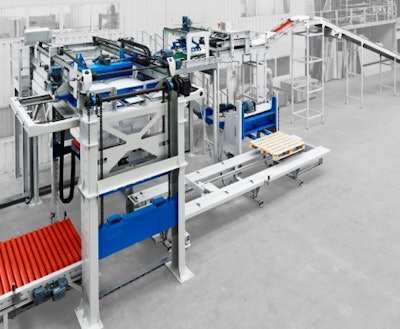 The Beumer paletpac series supplies high-capacity machines, which stack bags filled with bulk material on pallets gently and exactly, layer by layer to provide very stable pallets.  Products such as cement, mortar, pellets, industrial salts, and fertilizers may be filled in paper, polyethylene, or polypropylene bags. Multiple pallet loads created with the paletpac can even be stacked on top of each other to save storage space.
The redesigned paletpac 2500 is even more sustainable than its predecessor. Lowered production costs are reflected in the purchase price and operating costs.
The lifting frame has been replaced with four chains with a counterweight, considerably reducing weight and minimizing the energy needed for the lifting movement. Personnel can now access all the components more easily when maintenance or cleaning is necessary.
The paletpac is also considerably slimmer, saving approximately 2.4 tons of material; the external frame elements can now be folded, allowing the entire palletizer head to fit into one transport container, reducing transportation costs and shortening the assembly period on site.
The pallet pusher that automatically provides the hoist unit with empty pallets has also been modified. Modifications include guides for the pallet side plate, a new lateral guide system, changes in the drive performance, a decreased system width, and toolless changeover. 
The paletpac palletizes bags up to a pack height of 2,400 millimetres, in all technically possible packing patterns and on any commonly used pallet size — including intermediate sizes such as 1,400 x 1,200 millimetres. A multi-program enables the user to set parameters easily and quickly. The paletpac can be provided with a bar-type turning device or with a newly developed twin-belt turning device to position the filled bags quickly, helping ensure stability.
Companies in this article