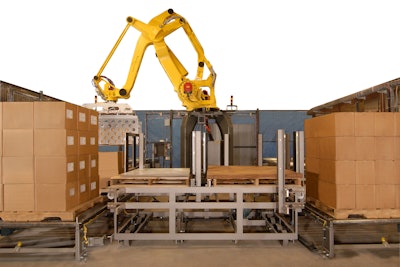 The line ranges from a low-cost entry-level machine to machines that can palletize at rates in excess of a 100 cases/min. The company is able to integrate any palletizer with a stretch wrapper and/or corner board placer for a complete end-of-line solution.
Customers can select existing pack patterns or program new pack patterns on the HMI, eliminating the need to use a computer. Safety features include framed guard door package, CAT II safety circuits, and muting light curtain that meet requirements for stringent safety programs.
Robotic and conventional palletizers reduce repetitive stress injuries and provide long-term durability, performance and investment value for the most demanding packaging operations.
Companies in this article