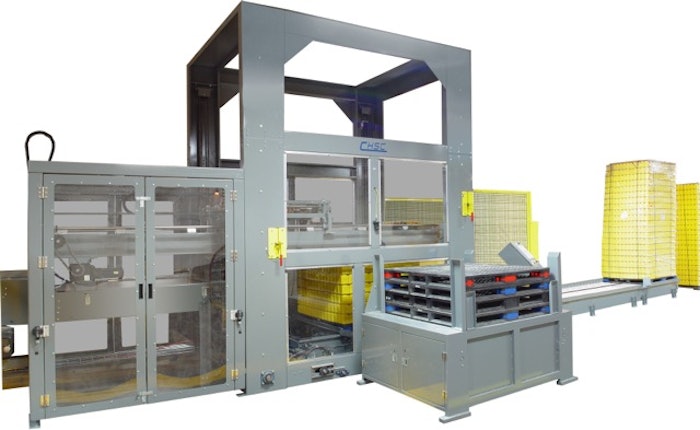 The Model 1000(AC)-60 provides improved flexibility in the range of layer heights that can be accommodated; improved accuracy in layer incrementing with heavy loads, such as full height pallets of glass bottles; and improved reliability through the reduction in the complexity of controls through the elimination of many of the positioning controls required with conventional systems.

This new system features floor-level depalletizing without operator platforms and container lowerators. Comes standard with a four-point pallet lifting platform, servo-driven main elevator, wide-way pallet handling, newly-designed Lexan Speed Frame Doors that provide better access for maintenance personnel, and tolerance of leaning pallets with longer layer transfer plates and double stroke chip board grippers.
The Model 1000(AC)-60 also has a range of options available to meet the unique needs of any application.  These include: perimeter guarding right-angle pallet stackers; collating dunnage hoppers; zoned-chain or air-chain pallet accumulation conveyors; nose-over chain transfers on accumulation table for difficult containers; servo-driven sweep drive; wide range of PLC controls.
Companies in this article