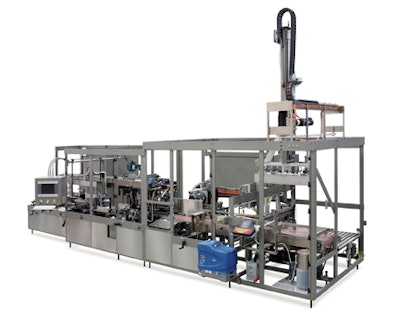 A builder of wraparound cartoners, case packers, sleevers, and combination systems for a variety of Consumer Packaged Goods companies,
The Aagard Group LLC
is a big believer in technology that integrates once-separate modules into complete solutions. So it's little surprise that Aagard has been making extensive use of
Rexroth's
innovative IndraDrive Mi integrated motor and drive system.
"In many cases packaging machine developers come up with a standard machine design for a given application and then try to sell it to as many other customers as possible," says Tory Bjorklund, Chief Technology Officer at Aagard. "We have a different model. We work with companies that are looking for an innovative design they can't get elsewhere."
Key industry challenges—such as reducing machine footprint, achieving greater production flexibility (i.e. running multiple package configurations on one line), and efforts to reduce energy consumption—are often solved by Aagard by integrating previously separate machine functions into a single machine—an approach that produces solutions that are "all-in-one, ready to run."
"For example, if you're trying to increase throughput on a particular line, you often have to consider the interaction of several pieces of machinery," says Bjorklund. "The bottleneck may not be one particular machine but may stem from how multiple machines interact."
An essential technology for solving these challenges is the latest generation of intelligent electric servo drives and motors. Servo systems offer features such as encoder feedback for more automated control and diagnostics. Servos also let Aagard create integrated solutions combining side-seam gluing, cartoning, case packing, and palletizing into a single line, while giving packaging operations the ability to meet today's constantly changing consumer preferences.
Product range a challenge
"One of the challenges that we take on is the range of product that is coming through our machines," says Bjorklund. "Some machines run 15 to 20 recipes, from large club multi-packs down to single-serving packages. The range of motion we get from intelligent servo systems allows us to solve those problems as well," he said. "At times, we've been able to replace multiple lines with a single line as a result of that flexibility."
Another operational challenge for packagers is efficiently restarting a machine after clearing it from a product jam. This is accomplished by designing features into the machines that keep "mean-time-to-recovery" to a minimum. To do this, Aagard leverages servo technology's ability to provide "smart recovery."
"We can recover quickly from sudden machine stops, to clear machinery jams for example, because the servo drives remember where each axis was in the motion sequence, and they can immediately resume production without having to reset everything and restart the machine," says Noel Schonberg, the head of Aagard's controls development.
Helping control machine footprint without sacrificing the operational advantages of servo drive technology has led Aagard to make greater and greater use of Rexroth's IndraDrive Mi in its "all-in-one" combination machines, particularly those with 10 or more servo-driven axes.
According to Bjorklund, the use of servo drives has helped Aagard reduce machine footprint, but it can also create other design challenges. Servo drives are more typically mounted in separate control cabinets and connected by separate communications, power, and feedback cabling that must be mounted and run through machine spaces, and the drive enclosures on large machines with 20-plus axes often require air conditioning, adding to equipment costs and energy use.
"The more servo drives you add, the more enclosures are needed, and soon we found that a significant part of our machines were covered up with enclosures," says Bjorkland. This added to machine footprint and also complicated machine access for clearing and maintenance, a significant drawback. "What the IndraDrive Mi technology allowed us to do with the drive mounted right on the motor, was to keep the smaller footprint without all the restrictions of those enclosures," says Bjorkland.
Motor and drive in one unit
What Bjorkland refers to is the The IndraDrive Mi's combination of a traditional servo motor and drive amplifier into a single, compact, versatile unit. Since the drive is integrated into the motor, machine designers can reduce control cabinet size by up to 70% and in some cases eliminate entire drive enclosures and air conditioning equipment.
The IndraDrive Mi also integrates both power and communications into a single cable and up to 20 IndraDrive Mi units can be connected in a "daisy chain" to one power supply without additional distribution boxes. This can result in a savings of up to 85% in cabling compared with configurations using separate power and communications links, according to Rexroth.
"Initially, we were very interested in the opportunity to eliminate the control cabinet from the footprint of machines we were designing for our customers," Schonberg says. "Eliminating the enclosures also opened up the machine design, making it easier to access the machine components to clear jams and perform maintenance."
Since its founding, Aagard has worked with leading Rexroth motion control distributor Motion Tech Automation to fully explore the functional and technological advantages of the latest servo drive technology in their machines. MTA provides engineering design, applications support, drive and motion components, and complete electromechanical assemblies for a wide range of manufacturing machines. According to MTA's Shawn Nelson, his company has helped Aagard apply and size servo drive systems since they began making extensive use of the technology. Once the Rexroth IndraDrive Mi system became available, Aagard and MTA together began assessing the system's advantages.
Time saver
"We were certain the IndraDrive Mi would save Aagard tremendous time and be a much better way for Aagard to build machines," says Nelson. And while Aagard and MTA appreciated the efficiency of this integrated solution, they performed their own testing to make certain that communications between drives and machine control were free from electrical interference. MTA arranged to supply a test IndraDrive Mi unit, and supported Aagard's engineering staff as they became familiar with the system's hardware and integration into Aagard's control software.
"We do a lot of complex motion, and coordination of multiple axes," sats Schonberg "Because we do so much of our own motion control, and utilize our own motion control framework, we needed to make sure that the drives could be integrated with our framework. We were able to confirm that the SERCOS II communication was stable and could support our motion control platform." Although some adaptation was required, integration and communication proved comparatively easy, and Schomberg is confident the IndraDrive Mi can be used for packaging solutions for many of the company's customers.
After testing a sample IndraDrive Mi on Aagard's test laboratory, the company chose to utilize the IndraDrive Mi on a pilot machine, a combination casepacker/unitizer machine with 23 axes of motion. They subjected the system to extensive drive testing and were able to assure the customer that the IndraDrive Mi delivered the required performance and reduced machine footprint.
From Aagard's perspective this first machine proved that the IndraDrive Mi helps answer some of Aagard's unique engineering and machine design challenges for the packaging industry. For example, the integrated power/communications cabling and the ability to daisy-chain multiple IndraDrive Mi's helps simplify and clean up machine design.
Cable reduction
"We got a 60 to 70 percent cable reduction," Schonberg said. "It saves in cable routing and cleans up the look of the machine and eliminates places where product can potentially build up—that's a very big deal in the food and packaging industry. On the pilot machine, use of the IndraDrive Mi also eliminated an entire 36" x 70" control cabinet enclosure, and the associated air conditioning unit normally required. Also, the yearly energy savings from eliminating the air conditioner is a benefit for our end customers. It made designing machines with high numbers of servo axes easier.
"There were times on machines with 20 or more servo drives where we would decide that it was cost-effective to have two drive enclosures in separate locations, so we wouldn't need air cooling for the drive cabinet," he adds. With the IndraDrive Mi, Aagard is no longer forced to make those kinds of tradeoffs, which hindered machine accessibility and raised costs.
MTA's Nelson is also convinced that the IndraDrive Mi will provide long-term benefits for Aagard, fitting closely with their custom approach to machine design and engineering. "When they add or change machine designs, based on a new machine's functional requirements, it is much easier to make those changes using the IndraDrive Mi technology," he says.
While Schonberg sees cost savings for machines with 10 or more axes through elimination of drive enclosures, air conditioning equipment, and reduced cabling, he also believes Aagard customers will benefit with better diagnostics/messaging, accessibility for maintenance, changeover, and reduced lead time. Additional savings are also achieved through faster machine assembly due to the reduction in number and complexity of multiple power, feedback, and communications cables from drive cabinets to every axis of motion. Aagard was able to reduce its electrical assembly time related to wiring the servo drives and cables by over 80 percent, because the company was able to purchase the manufactured cables instead of building them, thus reducing the number of cables needed per drive by half.
According to Bjorklund, one of the clear advantages associated with using the IndraDrive Mi is the technical support and strategic relationship the company has established with Bosch Rexroth—especially since establishing strategic relationships is a core component of Aagard's entire business philosophy.
"Having productive partnerships with our clients and our technology suppliers is an important part of our business model," Bjorklund says. "We received a lot of technical support integrating the IndraDrive Mi with our controller from Rexroth, including having one of their applications engineers on site here working with us." The success of the pilot machine has led Aagard to expand its use of the IndraDrive Mi to well over 50 machines. It provides an effective, integrated solution that allows Aagard to make full use of servo drive technology while conserving machine footprint, eliminating enclosures, saving energy, and making routine access to machine spaces simple and easy.
"These are all issues which continue to be crucial concerns for our customers," Bjorklund said. "The performance of the IndraDrive Mi has really met our expectations. At Aagard, we have a culture that cultivates creative engineering solutions, and the benefits the IndraDrive Mi offers our integrated, servo-driven systems is something we hope to expand in the future."
Companies in this article