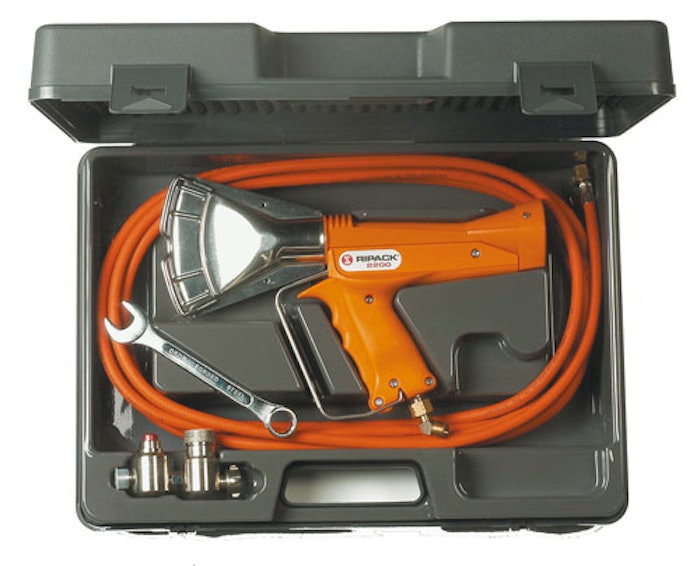 Ripack
Sefmat has chosen to focus on safety and efficiency in the design of its products. The company decided to strengthen its presence in North America by opening a subsidiary Chicago dedicated to supporting its network. 
The power, safety and strength of the Ripack® 2200 are major assets for the user. Equipped with a rotating nozzle, even during operation, the heat gun is designed to facilitate precision work. An exclusive system ensures that the nozzle remains cool during and after use, preventing the risk of burns to people or goods. Its use is made even easier by the fact that it ignites almost instantly. The included "Securipack" device ensures that the gas supply is cut off if the hose breaks, and the user can regulate the power of the appliance to adapt it to a particular application.
The film shrinks under the heat produced by the Ripack® 2200, and clings closely to the shape of the product. Very little heat is transmitted to the objects, as the film forms an excellent thermal barrier. Shrink wrapping has the advantage of being able to adapt to the size and shape (even if uneven) of the objects it protects, and the Ripack's hand-held shape and adjustable heat outputs help make shrink wrapping even easier. Available in the form of covers, sleeves or flat film, shrink wrap is also extremely strong and resistant: in fact, considerably more so than extendable films.   
Heat output ranges from 40 kW (136,000 BTU/h in the U.S.) for thin films up to 72 kW (245,000 BTU/h in the U.S.), which creates a large shrink zone on the film and thus saving time. This makes it possible to cover a pallet in less than 90 seconds. With a line of patented handle extensions, the Ripack® 2200 can be used to shrink film over very large volumes. These extensions can be quickly assembled, and greatly facilitate the work of the user. They make it possible to reach area difficult to reach, or shrink wrap bulky objects in record time. In this way, winterizing boats or even protecting large machines can be accomplished efficiently.
Companies in this article