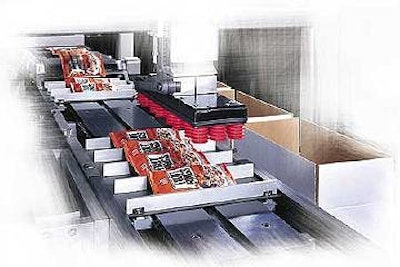 This system provides positive product placement. With pocketed collation, variables that effect nonpocketed collation systems are eliminated.
More flexibility
Changeover in less than one minute! Each group of pockets is in fact a short section of shuttle belt. The shuttle belt is simply "clicked out" or clicked in" to the drive system. When running a new product with a different pitch, simply "click in" the new set of shuttle belts! It's that easy!
Less maintenance
Speed: Up to 500 indexes per minute (actual speeds vary depending on type and size of package
Drive: Servo driven collation system with either stand-alone motion control system or Allen-Bradley Control Logix
Each Smart-Trak is customized to your specific package type, size range and speed requirements.
Companies in this article