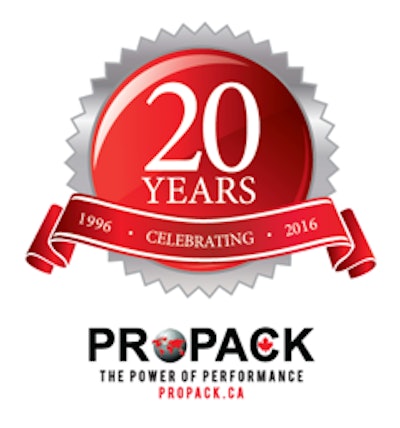 Propack Processing and Packaging Systems Inc. is celebrating its 20th anniversary as a manufacturer and supplier of high-speed packaging machinery with robotics technologies. The company offers a range of robotic automation systems custom-designed to the customer's specific needs and applications.
Propack will be exhibiting at PACK EXPO International in Chicago, Nov. 6-9 at booth #S-3682, with working demonstrations of some of its latest robotics achievements, including the LJ-TRT robotic carton product loader.
The LJ-TRT carton loader can operate at speeds up to 900 incoming products per minute with an output of 150 cartons per minute.
The servo-driven, lugless carton management system provides fast collation and features recipe-driven changeovers.
The small footprint LJ-TRT comes with an ABB IRB360 flexpicker robotic system with an easy-to-manipulate IRC5 controller and features Rockwell Automation's Allen Bradley ControlLogix PLC with Kinetix 6000 Sercos servo drive and motors with a PanelView Plus 1500 HMI.
Companies in this article
Videos from Propack Processing and Packaging Systems Inc.