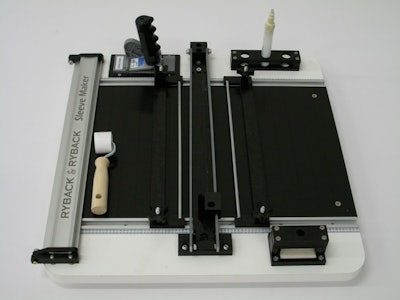 The Sleeve Maker* was created to make single solvent seamed samples without the use of a seaming machine. The Sleeve Maker is a fast and easy way to do this to have a sleeve that can be run through a heat tunnel and can be shown to customers as a professional sample.
"We've all been there trying to create a single shrink sleeve sample using tape, glue, and double stick tape. It never works right and never looks as professional as a solvent sample." says Ron Ryback, owner of Ryback & Ryback Incorporated. "I've developed the Sleeve Maker so that machine quality solvent based samples can be created faster, cheaper, and easier than running full production samples on a seamer."
The R&R Inc. shopping website features more information on the other products that have been developed. It includes a Narrow Web Kit* to make running smaller Layflat sizes on Karlville K1-5 equipment possible, a Wick Holder* developed for solvent application on thinner gauged films for several machine types, a Curl Tester to quickly know if your film tension is correct on a laminated film, and a Handheld Layflat Ruler to give the ability to measure precise layflat sizes during machine operation.
*Products are Patent Pending.