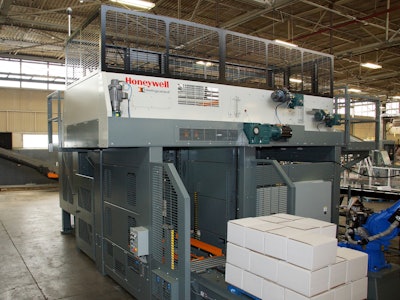 Honeywell Intelligrated has updated its Alvey® 891i, a high-level, row-forming palletizer suitable for both single and multi-line operations. The machine can palletize intricate stacking patterns, difficult-to-handle product, and various consumer goods such as packaged food, beverage, converted paper, and personal care products.
Updates to the model prioritize safety, ease of use, and maintenance, the company explained. Enhancements include an automatic air dump to avoid trapped energy, a separate enclosure for high- and low-voltage devices, a CAT 3 design, interlocked access gates, taller safety fences, and a muted light curtain system for pallet discharge.
The Alvey 891i features a 10-in. color touchscreen interface that enables operators to easily create new load configurations. Said Honeywell Intelligrated, standard features like automatic layer-centering compression dams and a unique package stop design makes adding new products and patterns easy and cost effective. Servo technology is available to increase capacity or further enhance product handling capabilities.
The palletizer is available with a range of ancillary options, including slip sheet dispensers, tier sheet dispensers, an extended discharge conveyor, and multi-line controls for handling more than one production line simultaneously.
Companies in this article