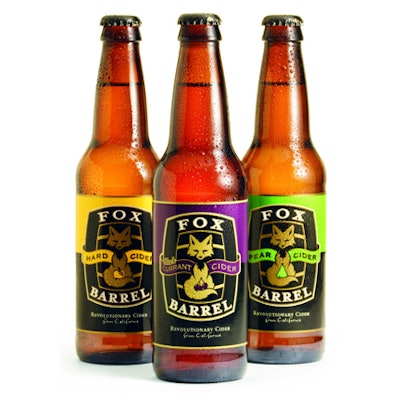 Fox Barrel Cider Co., Colfax, CA, packs its own cider brand and does contract packaging for other companies. In all, Fox Barrel bottles and cases about 9 different cider labels.
To resolve some maintenance issues with the previously used inkjet coding equipment, the cider maker decided to upgrade its bottle and case coding operations. In January 2009, after investigating available options, the company installed its first new coder from Squid Ink (www.squidink.com).
Fox Barrel President Bruce Nissen says, "With the old coding system, we were encountering considerable maintenance requirements and the accompanying downtime. We needed more reliable equipment to date code our bottles and shipping cases and to print product identification data on the cases."
The Squid Ink printing systems feature simple software, facilitating quick and easy message programming and retrieval. The printheads are encased in sturdy stainless steel, sealed to combat the ingress of dust and moisture--thus reducing maintenance requirements and downtime. The Squid Ink case taping system features top and bottom tape heads that are interchangeable and tip back for easy threading.
Fox Barrel currently is operating two Squid Ink coders and one case taper. Plans are underway to add a third Squid Ink coder as a back-up to handle peak production demands.
Nissen notes, "We found this equipment to be consistent and simple to operate. And it had a robust design, well-suited to our needs. Support from the Squid Ink sales person was a value-added benefit. I think that any company that does not have its own full-time maintenance staff would value the kind of tech support we get from Squid Ink. They provide ongoing, hands-on assistance. They are very helpful and attentive to our needs."
The company sources its various sized and colored glass bottles from multiple suppliers, but the primary provider is Gamer Packaging, Inc. (www.gamerpackaging.com). Metal caps for the bottles are supplied by Crown (www.crowncork.com), and bottle labels are from Mepco Label Systems, Inc. (www1.mepcolabel.com).
Companies in this article