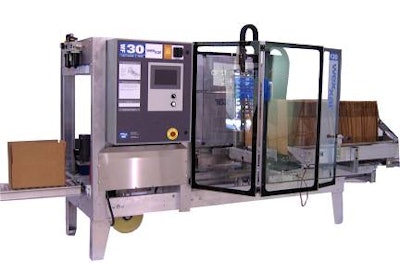 The new WF20 and WF30 fully automatic case formers raise the standards for ease of use, case forming quality and customer value. Both the WF20 and WF30 feature a new case squaring system and an enhanced Pin & Dome system that together ensure accurate forming throughout the process and easy handling of common imperfections found in corrugated boxes that can impact efficiency and quality.

The new WF series of machines also feature a color-coded tactile guide, easy kip handle adjustments, and a Tilt-Out Tape Head for the tape version that provide for convenient setup and tool-less changeover in minutes. The color-coded knobs and handles with a corresponding setup check list allow for a completely tactile setup and highly user-friendly changeover unavailable in other case formers.

Wexxar's Pin & Dome technology which provides a simple mechanical system for case opening has long been the standard for efficient and effective case forming. Adjustments of the Pin & Dome system on the new WF series can be easily released and reinserted in any different position without unbolting the mechanism.

"In designing the WF20 and WF30 we focused a great deal on the user experience and issues that impact the quality of case forming," said William Chu, Wexxar Packaging General Manger. "Our goal was to provide our customers with a new standard for quality, efficient operation, and ease of use at a total cost of ownership unavailable anywhere else in the marketplace."

Both the WF20 and WF30, which operate in the 20 cases per minute and 30 cases per minute range respectively, are available for tape or hotmelt glue forming. Both the WF20 and WF30 handle a wide range of case sizes and are easily adjustable to accomodate changing requirements.

The WF20 and WF30 will be unveiled at Pack Expo in Chicago at Booth N4034. For more information about the WF series, contact Wexxar Packaging at 604-930-9300.

Wexxar Packaging, a division of Pro Mach, is a leading manufacturer of high quality systems for case forming and sealing. Through three business units and related divisions, Pro Mach provides equipment, training, installation, and parts in primary packaging, end-of-line packaging, and identification and tracking.

Companies in this article