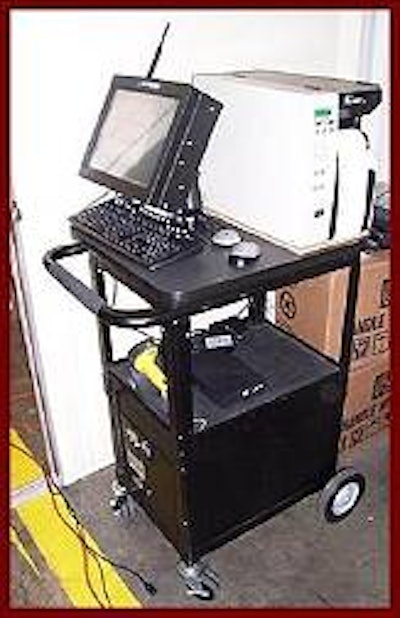 Thomasville Furniture Industries, Inc., Thomasville, NC, has partnered with Odin technologies to lead its RFID compliance program for its Creative Interiors ready-to-assemble furniture division. Odin technologies specializes in RFID testing, deployment, and certification.
On Odin's selection, Thomasville VP/CIO Terry Bargy comments, "What has impressed us most is Odin's holistic approach for solution and process design and how their experience in other deployments has guided us to a practical, measured investment that can scale as volumes increase. Adopting RFID can no doubt be disruptive. ODIN has taken the hassle out of our RFID compliance program and reduced our project risk."
The RFID rollout is underway at Thomasville's Appomattox, VA, distribution center, which is the company's only DC. Because the facility comprises five interconnected buildings, the smart label print-on-demand RFID solution is mounted on wheeled carts. Two RFID-enabled carts were being used starting in May with more planned as the company's RFID rollout continues. A cart includes onboard power supply, a durable PC and monitor, printer, and bar-code scanner. One cart will be on a line while the second will usually be positioned by the pallet stretch wrapper for pallet label applications.
Hardware, software bits
The components used with the Accu-Sort mobile tagging stations include: Zebra Technologies Model R110 printers for tag enabling and printing; RFID tags from Alien Technology as well as Alien Model 9780 Class 1 reader portals deployed using Odin technologies' ruggedized RFID racks that protect the reader-antennas; and Catamaran[r] RFID middleware from Shipcom Wireless.
The wheeled carts provide flexibility including for exception processing throughout the facility to replace damaged or otherwise unreadable tags.
"Most facilities have fixed RFID portals," explains Bret Kinsella, ODIN's director of marketing, "and product has to be physically moved to the station." Thomasville's cases, which contain ready-to-assemble furniture, are large and heavy, weighing from 60 to more than 200 lb. "These carts could be transported throughout the DC as well as to another Thomasville facility a mile away," he adds.
ODIN technologies' Trifecta testing software pinpointed the specific "best" tag placement on the box for more than 20 different stock-keeping units that are RFID tagged.
With the bar-code scanner on the cart, a worker is able to associate the SKU with the Electronic Product Code number and the order number to commission the tag. When that SKU is entered, a digital image of the box is displayed on the monitor on the cart to show the worker the specific placement location for that item's tag.
Not slap and ship
Kinsella does not consider the Thomasville application as "slap and ship" because Thomasville will verify the tags not once, but twice after application. After item-level case tagging with the manually-applied smart label, the cases are built into full (one SKU) or mixed (multiple SKUs) pallet loads. Those loads are RFID scanned and verified by the Alien reader while the unit turns during stretch wrapping. That station generates a pallet-level RFID smart label that is applied to the wrapped load.
Before it leaves the facility, a load is scanned by a reader-antenna at the dock door. Kinsella says that reconfirms the tags' readability and confirms when shipments leave the facility.
Initially, the cases are shipping to Target's first RFID-enabled DC, in Tyler, TX; Thomasville is a Target Top 100 supplier. The company will also ship RFID-tagged cases to Wal-Mart in the future.
Besides meeting retailer mandates, Thomasville is also working with ODIN to identify locations where RFID can improve its in-house material handling or inventory control management, according to Kinsella.
Thomasville's initial volumes are expected to be 60ꯠ RFID-tagged cases per year after which it "goes up from there," says Kinsella.
Companies in this article