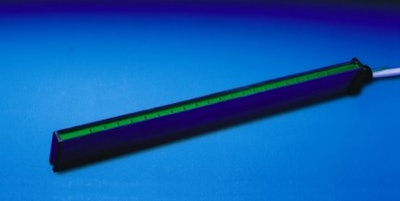 Static bar
The Blue Bar HL from Simco Industrial Static Control is a static neutralizer designed to work in hazardous conditions. The high-efficiency, extended-range, shockless static bar neutralizes static charges on webs at speeds to 2귔'/min at a range of 1" and can be mounted up to 6" from the web at slower speeds.
New catalog
THK showed SouthPack attendees its new Catalog Directory of products, including motion guides, actuators, and other linear motion products.
Material shredder
Schleicher showed its PacMaster packaging material shredder. Economical and reliable, it converts empty corrugated board packaging, which ordinarily costs money to dispose of, into "free" large-volume filler material suitable for packing even sensitive goods for transport.
Dispenser
Glue Dots showed its hand-held, trigger-activated dispenser, which applies Glue Dots quickly, cleanly, and precisely. Lightweight unit weighs only 24 oz fully loaded.
Handwrap
Stretch Associates debuted a lightweight, resilient, prestretched handwrap called AirWrap. Weighing about half that of comparable products, it was developed as a better ergonomic alternative to traditional materials. The product is designed to increase productivity due to ease of handling and is said to be more cost-effective because it resists damage caused when rolls are dropped or mishandled,
Pallets
The Alloyd Co. exhibited several award-winning packages. The "Big Chews for Big Dogs" package for dog chews from Nylabone Pet Products and Osram Sylvania's "SilverStar" package for automobile light bulbs both earned IOPP awards during the PACK EXPO International trade show in Nov. 2002. A third package on display, the NASCAR Intercom Scanner Package, contains a headset that allows race fans to monitor racetrack communications. It was awarded a Thermoforming institute National Award by the Society of the Plastics Industry in March, 2003.
DVD packaging
Schneider Packaging Equip. presented a case packing system for movie, music, and game DVDs. The system takes pre-packed cartons of DVDs or individual cases of DVDs and packs them into one master shipper. It packs 130 DVDs and up to 11 cartons/min.
Companies in this article