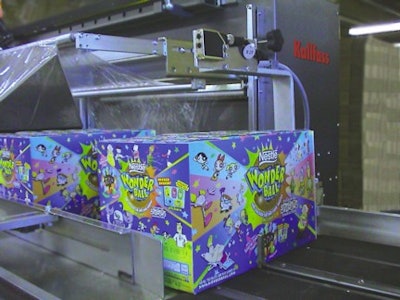 Cost/performance breakthrough
Generation3 performance is no longer the sole domain of high end packaging machinery.
With the Servo Jet 400 Kallfass has applied ELAU PacDrive™ automation technology to a shrink film overwrapper.
The challenge
End of line packaging is a focus of cost reduction activities. To increase throughput and reduce waste these applications require increasingly high speed and precise control at an affordable cost.
The solution
The first Gen3 shrink wrapper the new Servo Jet uses 6 axes of servo. Yet it is comparable in cost to cam-operated wrappers.
The key was a new design from the ground up taking full advantage of PacDrive's servo technology to replace performance-limiting mechanical drive parts.
Enabling technology
By integrating motion and logic in a single Pentium-based controller ELAU helped Kallfass reduce hardware costs. Servosystems cut the mechanical parts count in half.
Better controllability reduced material usage and waste. For example servo drives on the film unwind and rewind gently "push" rather than "pull" which prevents stretching and tearing.
Results
The Servo Jet is very fast — two models allow 100 and 150 packs/minute production rates.
One Kallfass customer has reported a reduction in reject rates from 15-20% with a conventional wrapper to less than 1%.
Better tension control allows use of thinner gauge lower cost films. Less film is required per package because product spacing is more precise.
A folding unit allows the use of flat film instead of center-folded film which doubles the machine running time before reloading.
Vital statistics
-Up to 150 packs/minute
-50% fewer parts than mechanical machines
-Reduced reject rates from 15-20% to less than 1%
-+1/16" accuracy uses up to 15-20% less material
-Gentle web control allows use of thinner gauge material
-Comparable in cost to conventional wrappers
Companies in this article