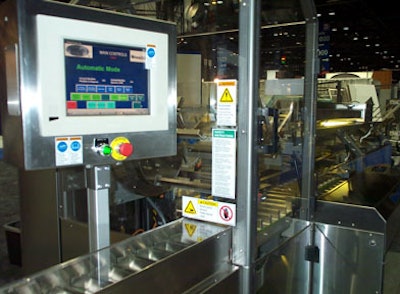 According to MGS, a Windows NT HMI touchscreen on its new Stealth cartoner eases operator training and facilitates preventive maintenance by providing online manuals and self-diagnostics.
The HMI's features include a basic training module, troubleshooting guide, spare parts list, preventive maintenance schedule, schematics, assembly drawings, changeover recipes, production statistics and password-controlled access. Rockwell Automation's RS View 32 software drives the HMI. An Allen-Bradley SLC 5/05 PLC controls the machine's multi-axis servo drives via a SERCOS motion network.
Servo-driven cartoner uses fewer moving parts, which reduces maintenance requirements and provides greater accuracy and precvision of machine movement, says the company.
The machine runs carton sizes ranging from .50" to 1.50" in width at speeds up to 400 cycles/min. Larger widths are possible at reduced speeds.
No tool, quick-change carton set-up masks and drop-in plows and guides reduces carton changeover time to minutes, according to booth personnel.
Companies in this article