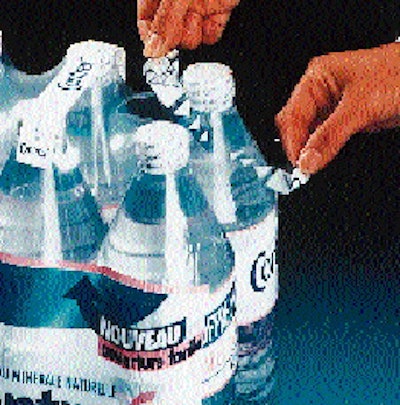 Based on Surlyn® ionomer resin from DuPont (Wilmington DE), the film is marketed by Soplaril (Suresnes, France) under the "Sodarec" trade name in cooperation with Ceisa (Bernay, France). The Perrier/Vittel pack is thought to be the first time an easy-open feature has been used for a six-pack bundle of bottles.
A complete description of the Sodarec material is not available, but Mr. Roibin of Soplaril says it's a three-layer coextrusion with a total thickness of 50 to 60 microns (about 2 mils). The patented coextrusion process gives the clear film high tear-resistance in the longitudinal direction with low tear resistance in the transverse direction. The Perrier/Vittel pack is printed flexographically in five or six colors. Total weight of the six-pack is 12 kg.
The film, which costs about 10 or 20% more than conventional polyethylene shink film, is shrunk onto the six bottles in a standard shrink wrapper. There are no special modifications other than the installation of a perforator to mark out the tear-off strip.
Companies in this article