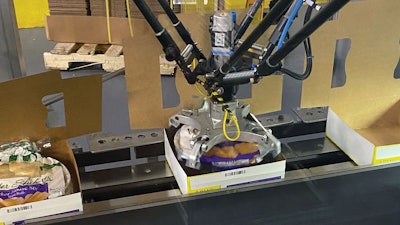 Headquartered in Columbus, Ohio, T. Marzetti Company has a plant in Luverne, Ala., that makes frozen bakery products sold in supermarkets under its own Sister Schubert's brand as well as under numerous private label brands. As demand for its offerings continued to grow, the plant found itself needing a more efficient way to handle manual cartoning, case packing, and palletizing. So management recently turned to robotic automation to reduce its increasingly unsustainable labor costs.
The product itself is dinner rolls in aluminum pans that consumers bake in the oven for 12 minutes or so. "In addition to dinner rolls," notes Project Manager John Haenszel, "we have sweet goods like cinnamon, lemon, and blueberry rolls, for example. And we also make a sausage-and-cheese pinwheel. But the primary package is always a round aluminum pan."
Primary packaging changed very little. It's done on a bagger from Kliklok, a Syntegon company, that pulls clear film bags from wickets, inserts a filled pan, and clips the bag closed. The bagged pans then go into a spiral freezer. At this point it's time for secondary and tertiary packaging, and this is where the transformation has occurred. A key automation upgrade came in the form of a robotic palletizing system from Schneider Packaging Equipment, a Pacteon company. But most impressive are the two upstream monoblock cartoning and case packing systems from Cama. Each IF299 monoblock is designed to run 45 bagged pans/min, and each system includes a Model IF315 top-load cartoning system featuring a vision-guided RB590 Triaflex delta style robot.
Cama has been supplying robots for more than 30 years now, offering a robotic loading unit with the latest open-architecture controls technology. In the case of the T. Marzetti machines, the controls are from Rockwell. "The idea is to offer equipment with built-in, customized robots, not arms that simply pick and place, but solutions conceived for specific packaging operations," says Billy Goodman, managing director of Cama North America.
The monoblock system is part of Cama's Breakthrough Generation (BTG) series, which features modular, scalable, and hygienically designed frameworks housing contemporary automation solutions. This includes advanced servo technology tightly coupled to vision systems and Cama's robotic solutions, which have been developed in house to deal with the specific demands of secondary packaging. The vision system integrated by Cama includes a 3D Cognex camera.
Cama's BTG Series machines are also based on a 100% digital platform that supports full Industry 4.0 capabilities, including Augmented Reality, Virtual Reality, and virtual testing, training, and operation. Furthermore, advanced component-identification systems can deliver rapid format changeovers, sometimes in as little as 15 minutes.
Each IF299 delivered to Marzetti had to be able to do two essential things. First, it had to orient incoming pans, and we'll see why in a minute. Second, it had to produce either of two formats. Format 1 is twin-pack cartons followed by six cartons into cases. With this format, consumers pick a twin-pack carton from the freezer case. Format 2, on the other hand, is a no-carton approach, where bagged pans go directly into cases in either 6- or 12-count arrangements. In this format, consumers pick as many individual pans from the freezer case as they desire. Let's look at Format 1 first, where the robotic cartoner puts two pans into wraparound cartons and the case packer puts six twin-pack cartons into wraparound cases.
Exiting the freezer
It starts with bagged pans exiting the spiral freezer about 10 ft above floor level. A decline conveyor takes the pans down to floor level, where manual labor is used to place half the pans on a conveyor leading to one Cama system and the other half on a conveyor leading to the other Cama. Just ahead of both Cama systems are X-ray detection systems from Anritsu that detect foreign objects and cause pans with such objects to be rejected from the line.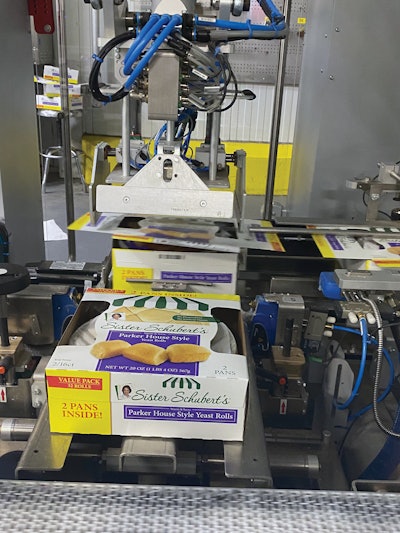 Like any plastic bread bag gathered at the neck with a plastic clip closure, the Marzetti packages have a "ponytail." The orientation of the ponytail is completely random when packages reach the infeed of a Cama system. This was challenge number one for the Cama engineers.
"The ponytail needs to be in the 12 o'clock position if the package graphics are going to be properly aligned with the two display cutouts in the carton," says Haenszel. "So the Cama solution needs to do more than just put pans into cartons at rate. It needs to put pans into cartons in a specific orientation at rate. It uses a vision system to do that. It identifies the orientation of the ponytail and relays that data to the Rockwell controller, which sends that information to the robotic end effector, which in turn rotates in whichever direction it needs to get the ponytail in the 12 o'clock position. That was a tall order, because if you think about the end effector putting the pan into a carton that is only slightly bigger than the pan itself, there isn't a lot of room for error. And it would be an easier fit if the ponytail could be in a corner, where there's more room. So it was a challenging thing to pull off."
Pans are fed single file into the Cama monoblock on a continuous-motion belt conveyor. Flat carton blanks are picked from a magazine feed and pass under two Nordson glue nozzles before being pushed down into a forming box. The paperboard cartons, supplied by WestRock, are a 26-point paperboard printed offset in seven colors.
Once formed, the cartons proceed top-flap-open down a conveyor that runs parallel to the conveyor carrying the bagged pans. The carton conveyor pauses periodically so that the Triaflex delta-style robot can pick one pan at a time from its conveyor belt and, after rotating in either direction and as many degrees as needed to orient the ponytail to the 12 o'clock position, place the pan neatly into the carton. As soon as a second pan has been placed on top of the first, that carton is advanced out of the loading station and an empty carton takes its place so the process can be repeated.
A short distance later, the filled carton has glue applied to its top flap by a Nordson unit and enters a two-axis robotic pusher whose tooling presses the top flap closed. Then the pusher slides the finished carton at a right angle to a staging area. In doing so, the pusher pushes the preceding twin-pack carton out of the staging area and onto another right angle conveyor takeaway that leads toward the case packing station.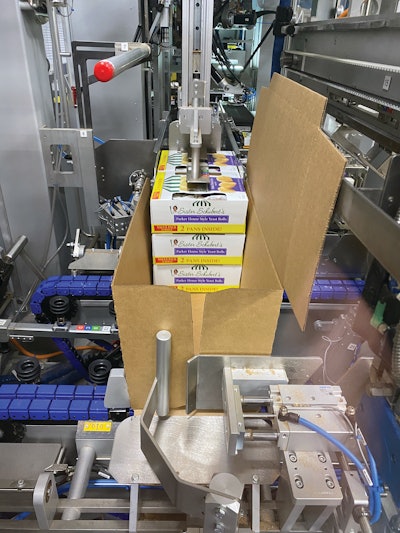 At the case packing station, a carton drops into a flighted conveyor that makes yet another right angle turn to a station where a push bar pushes it into an upstacker. As soon as cartons are stacked three high, that stack of three is pushed into a loading station where it sits momentarily until it's joined by another stack of three cartons. Then all six cartons are pushed into a single-wall C-flute wraparound case that has been pulled from a magazine feed and erected with help from, again, Nordson glue guns. Now the case is pushed again at a right angle beneath folding bars and tooling that closes around the top to compress the top flap shut. As soon as that tooling opens, the finished case is indexed forward onto a right-angle takeaway conveyor, in the process passing a Hitachi ink-jet coder for date coding.
On to Format 2
As mentioned previously, some stores display individual pans of these products in the freezer case as opposed to twin-pack cartons. This can be done in one of two ways. One option is for the store to receive 12 pans in a brown kraft corrugated case and for the store personnel to remove the pans and stand them on end in the freezer case. The other option is for the store to receive six pans in a white display-ready case that goes into the freezer case after the store personnel opens the case along the perforated score lines.
For both the brown kraft 12-count and the white retail-ready six-count, the IF299 operates a little differently than when two-pack cartons are being produced. Obviously, the station where cartons are picked, erected, and loaded is inactivated. Pans still enter single file on the same belt conveyor, and they still get picked by the same delta-style robot, and that robot's end effector still orients the ponytail of each pan—though in this case it orients the ponytail in the 9 o'clock position rather than the 12 o'clock position. Orienting all pans in the same position ensures that the ponytail does not interfere with pan manipulation or case closing.
Also quite different is that once the robot has a pan in its grip, it moves in the exact opposite direction that it takes when loading twin-pack cartons. In other words, rather than stroking north to drop pans into cartons on conveyor belt A it strokes south to drop pans onto conveyor belt B that runs parallel to A.
From here on out, the sequence is very similar to what we saw when twin-pack cartons are being case packed. Pans drop into the same flighted conveyor that takes cartons to the upstacker. But in this case it's two pans per flight as opposed to one carton per flight. When pans reach the upstacker, they can proceed into corrugated cases in six- or 12-count formats. Whichever format is chosen, top flaps are closed and glued shut and finished cases discharge the same way that cases full of twin-pack cartons do.
Robotic palletizing
Cases exiting the two Cama systems merge onto a single conveyor so that a Hitachi ink-jet coder can imprint date code information on each case. Cases then enter the infeed conveyor of a Schneider robotic palletizer equipped with a Fanuc robot with R30iB controller. End of arm tooling includes slip sheet pick-and-place capability.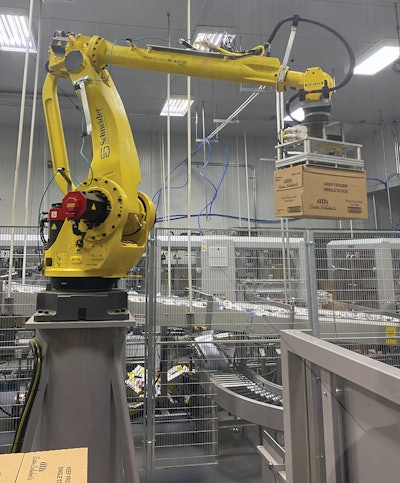 Running commercially now since late April, the new equipment operates two 10-hour shifts four days a week. Like any leap from a largely manual operation to one that's highly automated, there was a hiccup or two as installation wound down and commercial production began. But a lot of that had to do with packaging materials needing to be more rigidly in spec. "There's room for slightly out of spec corrugated, for example, when humans are handling that corrugated," says Haenszel. "When automation enters the picture, that's not the case. Automated systems are looking for more standardized and consistent conditions. So we had to tighten up the quality requirements on corrugated cases, for example."
The paperboard spec for cartons also changed. Because the carton is now a wraparound style formed from a flat blank rather than the pre-glued carton that was formerly erected and filled by hand, the paperboard went from a 28-point to a 26-point stock, which brought a slight cost savings.
Haenszel also notes that when it did come time to bring the new equipment in and make it fit an existing space, it helped that the monoblock Cama systems measured just 8.387 x 2 m (27.5 x 6.5 ft). "There was not a lot of room to spare," he adds.
Companies in this article
Videos from Cama North America
Videos from Anritsu - Product Inspection & Detection
Videos from Schneider Packaging Equipment, A Pacteon Company
Videos from Nordson Corporation