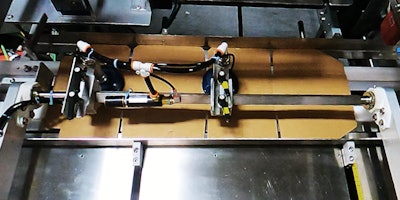 A machine type so new to the industry that its manufacturer isn't sure yet what naming convention to use, the new Duo from Fallas Automation can erect pre-glued RSCs as well as form an array of case and tray styles, including Display Ready Cases, from flat blanks, all in one machine. Says Fallas Automation Vice President of Sales Chris Calabrese, the company took the best of its CE400 case erector and combined it with its CF-700 flat-blank, plunge-style case former, "using all the latest and greatest technology in it like Industry 4.0 predictive maintenance, machine status controls, and lighting," to create the Duo.
Over the past five years, Calabrese adds, brand owners have been under increasing pressure to pack their product in DRCs for retail. "For customers that are trying to get into Walmart, they have to have a DRC," he says. "And so they're torn between two machines. A lot of times they may just hand-make one kind of case, but it gets to be a mess because they have all these different logistics and different timing, and they really need to automate. But they can't do that unless they buy two machines that make two different kinds of cases. So we wanted to give them the best of both in one machine."
The Duo can erect RSCs in dimensions up to 24 in. L x 16 in. W x 12 in. H at 25 to 30 cases/min, depending on the size of the case. Currently, the machine tapes the case bottom, but Fallas is working on a gluing module that will be released at a later date.
---
PACK EXPO Connects Drives Industry Innovation: So far this week, PACK EXPO Connects has seen over 115,000 directory visits as of Nov. 11 with 108,000 visits to exhibitor showrooms. These interactions between solutions seekers and solution providers have led to 50,000 exhibitor leads this week alone and a total of over 110,000 leads since the web site launch driving industry innovation into 2021.
---
As for plunge-style cases formed from die-cut corrugated blanks and then glued, the Duo can create a range of styles, including harness, split rear minor, DRC, and Half-Slotted Container. It can also form a beer tray with a 2-in. lip and a four-corner post clubstore tray. The size range for plunge-formed cases depends on the case/tray style, but the Duo accommodates roughly the same size for these cases as it does for RSCs: 24 x 16 x 12 in. According to Calabrese, the machine can be lengthened for larger flap styles, and Fallas can customize the machine for other case styles. The Duo produces plunge-formed cases at 30/min, but Fallas can create a dual-head machine for 60/min.
When using the Duo for harness and split rear minor plunge-formed cases, Calabrese says users can save from 10% to 35% in corrugated versus an RSC. The harness style, he explains, is similar to an RSC, but because it's made from die-cut corrugated, it reduces corrugated by up to 35%. The split rear minor is like the harness, but is stronger, using a double-wall feature. It can reduce corrugated by 10% to 15% versus an RSC.
The Duo is engineered so that both the RSCs and the plunge-formed case blanks are held in the same magazine. If the machine is forming cases or trays from flat blanks, the die-cut corrugated is picked from the magazine and put into position in the forming station, where a mandrel comes down and plunges the blank through the machine, forming and gluing it before it is deposited on a conveyor below to be carried away from the machine.
---
Don't Get Left Behind: For more information on how to make the most of your PACK EXPO Connects experience, visit the Attendee Resource Center. For free registration, visit packexpoconnects.com. Exhibitors will be staffing their showrooms for 1:1 chats 10 a.m. to 1 p.m. Friday. Login to take advantage of the live interaction before the show ends.
---
RSCs, likewise, are picked from the magazine and put into position in the plunge-forming area, except, as Calabrese explains, "there's a set of lug belts on top and bottom and a 90-deg case erecting arm that comes into play." He adds, "The arm raises the case up and erects it at 90 degrees. Then, the lug chain moves it forward, with the lugs keeping the case square as it advances. A series of flat tuckers then tuck the bottom flaps and tape the case just like a regular case erector. The belt then carries the case out of the side of the machine."
Changeover for RSCs comprises five changeover points for width, length, and height—a process Calabrese estimates takes around three minutes. Changeover for flat blanks, which involves swapping mandrel sizes depending on the case size, takes just five minutes. According to Calabrese, Fallas is working to provide automatic changeover on the Duo in the future.
To view demos from Fallas Automation (available through March 31, 2021) and to add the company to your MyConnects Planner, click here.
Companies in this article