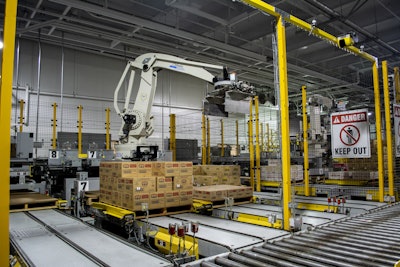 California Dairies, Inc. (CDI) is the largest dairy cooperative in California, co-owned by 400-plus dairy producers that ship 17 billion pounds of milk annually. Its products include butter, powdered milk, and fluid milk, which are sold in all 50 states as well as in 50 foreign countries. Five facilities across California process and package the co-op's butter and powdered milk varieties, which are prepared in a range of product types and packaging formats, with fluid milk sold directly to its customers for processing.
At its 55-acre site in Visalia, CA, CDI produces a half-million pounds of butter every day. Now, just picture palletizing that scale of product by hand each day—it's a physically taxing and costly proposition. But that's just what the Visalia plant was doing until late 2016, when it automated the process. Over the previous decade, three CDI plants, including Visalia, had automated their powdered milk palletizing operations, but, says Devin DiLuzio, Engineering & Maintenance Manager for CDI, it wasn't until last year the Visalia plant was ready to make the financial investment in robotic palletizing for butter.
"It was a very large capital investment for us," he says. "So, at the time, early on, it just wasn't a priority for our capital expenditures, but last year we decided to do it."
One of the main drivers for automation was the skyrocketing cost of labor in California. The plant required eight to 10 operators per shift over three shifts, 24 hr/day, 365 days/yr to manually load cases of butter that could weigh up to 50 lb each. "The palletizing system also made sense for us when you consider the potential for injury resulting from hand loading," DiLuzio adds.
CDI chose robotic palletizers from Columbia/Okura LLC, the same supplier it had selected to automate the palletizing of its powdered milk products. Given the success of those projects, DiLuzio was very comfortable selecting Columbia/Okura robots for the case packing of butter.
The Visalia facility provides a number of customers with butter products, packaged on 14 lines. DiLuzio says the main requirement for a robotic palletizing solution was that it be able to handle the range of case sizes and pallet patterns required by its customers. "That the robots were capable of stacking numerous types and sizes of packages was by far the most important thing for us," he says.
To handle output from CDI's 14 lines, Columbia/Okura specified four A1800 robotic palletizers, installed in October 2017. The 1,800-cycle/hr A1800 robot has a payload capacity of up to 310 lb—easily accommodating CDI's cases—and features a 360-deg range. A touchscreen interface allows operators to easily select preprogramed pallet patterns.
CDI has separated the four robots into two systems: the east side and the west side. Each side has two robots with eight lanes. There are eight packaging lines on the west side that can run to any lane on that system. The same is true for the east side, but at the moment, CDI only has six packaging lines on that side. However, CDI is getting ready for an expansion that will add two more packaging lines, resulting in each robotic palletizer serving eight lines. Providing maximum flexibility, all four robots have the ability to handle four different case sizes and two pallet configurations at one time. Once CDI installs the last two packaging lines, the four robots combined will operate at 48 cases/min.
According to DiLuzio, CDI runs approximately 30 different pallet patterns, with cases ranging from 12 to 50 lb. "We have different sizes because we sell butter in different configurations," he says. "We sell a 50-pound box of butter that's just a box of butter. And then we have a 12-pound case that holds 12 one-pound cartons of butter for retail. We also pack for some of the larger club stores, so we also have displays cases."
The process for directing a job to the appropriate palletizer begins when the operator selects a preprogrammed pallet pattern from an HMI touchscreen. During packaging, each case receives a print-and-apply label—most times positioned on the bottom corner of the leading edge of the case—with a barcode. Before reaching the palletizing lanes, the case enters a sortation loop comprising an oval conveyor. As the case travels the loop, a barcode reader scans the label, which tells the sortation system into which of the lanes the case should be directed.
Each robot is equipped with a clamp-style gripper. Once the operator chooses a program in a cell, the robot in that cell calls for a pallet from a pallet dispenser. A pallet conveyor transfers the pallet to one of four spots. It repeats this process whenever a new pallet is required. It then picks a case, or multiple cases, from the palletizer infeed, places it onto one of four pallets in the preprogrammed configuration, returns to the infeed, picks up the next case, places it on the next pallet, and so on, until it has loaded one case onto each of the four pallets. It then repeats the process until each pallet is full. When required, the robot places a slip sheet between pallet layers. Once a full load is complete, it is conveyed out of the palletizing cell and onto a full-pallet conveyor that leads to an automated stretch wrapper. Once a pallet is wrapped, an operator picks it up by forklift and transfers it to cold storage.
The addition of the robotic palletizers at CDI has had a significant impact on labors costs: Just two operators per shift are now required versus the previous eight to 10, resulting in a reduction of anywhere from 18 to 24 operators over a 24-hr shift. The two operators are responsible for programming the robots and stocking pallets and slip sheets as needed. Adds DiLuzio, "We also feel like the quality of our pallets is better now because the robots are stacking them. It has greatly improved our efficiency for sure.
"I've dealt with Columbia/Okura at multiple facilities. One of the reasons we keep going back to them is that we're pretty loyal to our vendors once we establish a relationship with them. They've provided us with systems at three of our facilities, and we've been extremely happy with the results."
Read Part II of Packaging World's Robotics & Automation Special Report, "Robots prove their mettle."
Companies in this article