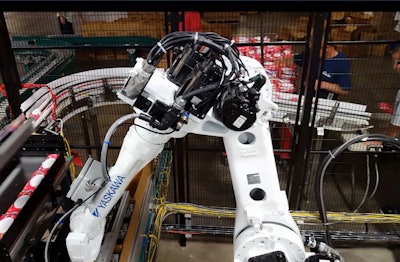 Wet wipes have become a booming business for Sheboygan, MI-based Rockline Industries. A privately-owned company launched in 1976, Rockline is one of the world's largest manufacturers of coffee filters and of consumer, healthcare, industrial, and institutional wet wipes for private-label and contract manufacturing customers.
The company operates seven facilities—they include five in the U.S., one in England, and one in South China—with the majority of its plants handling wet wipe manufacturing. Despite its size, until the recent rapid growth of its wipes business, Rockline was reluctant to add automation to its secondary packaging processes.
Explains Gerry Busken, Director – Global Engineering for the company, "Rockline has seen significant growth over the last several years. Prior to the tremendous growth in our wet wipes business, a single converting line was expected to produce a wide array of products. When you start automating secondary packaging for a line like this, it results in a lot of complications and a lot of time-consuming changeovers."
As the business grew, Rockline began installing lines dedicated to single product types, which meant the lines didn't have to be changed over as frequently. Meanwhile, the incredible increase in the company's production speeds resulted in the need for more labor for manual case packing and palletizing. With automation becoming more feasible due to dedicated lines, in 2015 Rockline began looking into adding robotics to reduce labor along with the safety concerns resulting from the repetitive motion involved with manual operations.
The line Rockline was looking to automate was a baby wipes packaging line in its Booneville, AR, plant. The line runs three different SKUs in three packaging formats: a single flow-wrap pack with a flip lid in 6- and 12-ct cases, and in a 3-ct bundle held together by a label that is packed four bundles/case. The flow-wrapped packs vary in size from 64 to 100 wipes.
In evaluating robotic equipment for the case packing and palletizing of its baby wipe packs, Rockline was looking for technology that would be transferrable to all its lines. Explains Busken, "We looked at all our different soft-pack formats—from baby wipes to moist toilet tissue to incontinence wipes—and we said, 'One day we want to automate all of these different formats, so we need to find a platform that can be utilized with all the formats we produce.
"We wanted to be able to standardize the robotics, although we knew we would have to change some things like the end-arm-tooling, collating, and infeed configurations because some products are in traditional cases, some are in display cases, the size of products varies greatly, and the case counts vary greatly. So, we were looking for that type of flexibility for the long run."
Also important was ease of operation—for programming and changeover as well as for identifying problems. "We needed a system that could easily tell the operator when they had a problem, with straightforward diagnostics," says Busken.
For case packing on the baby wipes line, Rockline chose two five-axis Yaskawa Motoman MPL80 robots, supplied by CRG Technologies. The company found that the system offered the flexibility of using one robot for its lines running smaller packs at slower speeds or two robots for its high-speed lines. "We also chose to go with an engineering group that was an integrator, one that had a background with Yaskawa and also had individuals who could build end-of-arm tooling that would work with our products," Busken adds.
The case-packing robots on the baby wipes line use pneumatic gripper-style EOATs and feature dynamic-pitch custom tooling designed to pick multiple flow-wrapped packs for multiple case packs per pick cycle. Explains Rockline Senior Electrical Engineer Brad Swift, "After the end-of-arm tool picks up the products, it spaces them out to be loaded into the cases, since the cases are a little farther apart than the products when they are picked up by the gripper."
To maintain the required line speed, the case packer loads 6-ct cases six at a time, and 12-ct cases three at a time. "So, when the products are coming in on the infeed conveyor, before they are picked up, they are butted up against one another, and the grippers pick them up in that fashion," explains Busken. "But some of the products are going in box one, some are going in box two, some in three, and so on, so they have to be spread apart in order to get the right pitch alignment that hits the box on target."
According to Swift, changeovers from one pack format to another require just minor adjustments due to the different case sizes. The EOAT was specifically designed to work with both the 3-ct bundles and the single flow-wrapped packs. "You have to select the different pattern from the HMI, but the pattern is already loaded on the PLC and ready to go," Swift says.
For case palletizing, Rockline chose the four-axis Yaskawa Motoman MPL160 robot—a standard palletizing robot that Swift says was selected to meet Rockline's reach, range, weight, and pallet size requirements. The robot has a payload capacity of 160 kg, or approximately 325 lb, which is more than sufficient to handle multiple cases of baby wipes weighing eight to 10 lb each.
The palletizing robot has three tasks: It picks up a pallet and moves it into place, picks up a slip sheet and places it on top of the pallet, then picks up the specified number of cases based on the pallet pattern being used and places them in a layer on the pallet. The robot uses a vacuum gripper to handle the pallet and cases and uses suction cups for the slip sheet.
Pallet patterns are programmed using Yaskawa Motoman's PalletSolver palletizing software, an offline pattern-generation tool with an intuitive graphical interface that allows for quick changeovers without stopping production.
Both the case-packing and palletizing robots utilize Yaskawa Motoman's MLX robot interface, which allows one main control panel, PLC, and HMI to control all robots, with all robot programming written in Rockwell Automation's RSLogix ladder logic. According to Swift, it's more typical to have the PLC run the logic part of the system, and let the robot supplier's processor do the rest. "So, you have two different languages," he says. "What Yaskawa gives us with the MLX is a way to do the programming in the PLC and not have to do another set of programming for the robot. That's the biggest advantage of the MLX system.
"You don't have to use two different people and two different software systems and two different interfaces to try to talk to each other to make the whole system work. You can use one programming language and make the whole system work from one place."
Since adding robotic case packing and palletizing in September 2016, Busken says Rockline has realized a number of benefits. Among them, it has reduced labor costs and, as a result, has reduced the safety risks associated with repetitive motion as well as its manufacturing costs. Another unexpected advantage has been an increase in the quality of its packaging. "In order for the packs to fit into the cases, they had to be very consistent," Busken explains. "So it forced us to improve the stacking, the wrapping, and the bundling of the product. Now we have a product that looks much better on the shelf than what we had prior to installing the equipment."
With the success of the project, Busken says Rockline is considering adding robotic case packaging and palletizing to similar wet wipe packaging lines in other facilities within the next 12 to 18 months.
Companies in this article