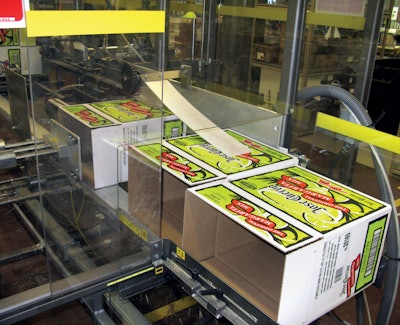 Proximo Spirits, with North American headquarters located in Jersey City, NJ, is owned by the Beckmann family, who owns the Cuervo brand portfolio and are sixth-generation descendants of the founding Cuervo family. Proximo has the distribution rights for an impressive number of high-profile spirits brands, Jose Cuervo being perhaps the best known of the bunch. In the last few years the firm has been setting up an equally impressive bottling operation in a former Seagrams packaging building in Lawrenceburg, IN, that it purchased in 2012. The idea was to minimize the extent to which contract packaging needs to be relied on and start bottling and packaging in house for the U.S. market.
Though many, if not most, of the products bottled in Lawrenceburg contain tequila, all of it is shipped to the plant in bulk containers. There it is either bottled as is or is used in margarita batch making and blending for ready-to-drink (RTD) alcoholic beverages. The other category of products made on site are non-alcoholic margarita mixes.
Though the Lawrenceburg plant had previously been set up to receive glass bottles in re-shippers from a local glass plant, Proximo decided to modernize by shifting to bulk container shipment. So bottles arrive on pallets, they're filled/labeled/capped, and then they're placed into one-way secondary packaging that's erected and filled on-site. For Line 5, which has turned out to be the workhorse of the plant, the firm contacted Wayne Automation Corp. for the secondary packaging equipment that would be needed. The objective was a close-coupled secondary packaging cell with the machines in close proximity to each other in the interest of smooth production flow and manufacturing continuity combined with conservation of floor space. Wayne responded with a WCE-HM Case Erector connected with a short 9-ft extension of conveyor to a SF-400EB/2 Enhanced Partition Inserter, which in turn is followed by a BCI-120 Carrier Erector/Inserter.
This secondary packaging cell occupies minimal floor space. Like the rest of the line, it handles 375-mL-, 750-mL-, 1-L, and 1.75-L PET bottles in addition to 200-mL single-serve PET bottles in four-count paperboard carriers.
"Adapting quickly and efficiently to the needs of the market was a key goal as we assembled the line," says Plant Engineer Brandon Dickerson. "We sell a lot of straight tequila, but also growing in popularity are the ready-to-drink products that include tequila already in a flavored mix or ready-to-mix products to which consumers add tequila. These come in a variety of sizes and flavors, and this line helps us meet the growth we see in this product category."
1.75-L PET in production
On the day of our visit, in production on the new line were 1.5-L handled PET bottles for Jose Cuervo brand Margarita Mix. While most of the filling and packaging equipment on the line is on the main floor, depalletizing is done on an upstairs level. An Arrowhead Systems lowerator brings the PET bottles down to a single-lane conveyor that leads through a Macsa iCon laser coder from ID Technology. "We're standardizing on this iCon laser coder so that if we ever need to swap one out from another line and move it, we can do so easily and with minimal interruption in production," says Dickerson.
The PET bottles move now to a monoblock rinser/filler/capper from MBF. With 56 rinsing/blowing heads for cleaning, 72 Ultra-Low-Vacuum filling valves, and 12 closing heads, it's capable of 200 bottles/min. The multi-purpose capper can do Roll-On-Piler-Proof aluminum, threaded caps, or corks. All of the PET containers filled on the line take injection-molded polypropylene caps. The only bottle that gets ROPP is a 1.75-L glass bottle for Proximo's 1800 Ultimate Margarita that is just now being added to the list of container varieties the line accepts.
The filler is designed to work on Ultra-Low-Vacuum and Gravity when filling PET, which optimizes filling speed. Essentially it's a way of designing a fill valve that applies a very low vacuum into the bottle—not in the filling bowl—just to start the bottle-filling process. Gravity filling then takes over immediately to avoid the possibility of the PET bottle collapsing or being deformed. This is what permits the filler to achieve impressive speeds and be capable of handling bottles ranging anywhere from 200 mL to 1.75-L with minimal effort spent on changeover.
"From an operations standpoint, one of the things we like about this filler is that in spite of the variety of bottle sizes we fill and the variations in things like product viscosity, speed and accuracy are controlled consistently across the whole range," says Dickerson. "We've installed four MBF fillers in the last few years and we are looking at two more."
Out of the MBF system bottles head for labeling. But first is a Mettler Toledo CI Vision system used to orient bottles prior to label application. Used primarily for the 1.75-L glass bottles just now being introduced into the versatile line, it detects how the pyramid-shaped bottle is oriented relative to the panel on which the front label is supposed to be applied. It then communicates this data to the labeler, which in turn rotates its bottle platform so that the front label does indeed appear on the front panel.
The labeler is a front, back, and neck labeler from PE that has four label unwind stations. The front label is the largest of the three labels that are applied, which means that the roll of front-label pressure sensitive labels is the first to run out compared to the neck and back labels. So Proximo uses the fourth label unwind station for a backup roll of front labels. "That way we don't have to pause as often to re-load the label unwind station for the front label," says Dickerson. "We've had great results with PE machines. We have another one being built for us now. Service and support has motivated us toward them, among other things."
Secondary packaging
Once bottles are labeled, they're ready for secondary packaging. Corrugated cases are erected by the Wayne Automation WCE-HM system. It can close case bottoms by way of tape or glue, and in Proximo's case, glue was selected.
Cases proceed immediately to the Wayne Automation SF-400EB/2 Enhanced Partition Inserter, which is capable of inserting a variety of partition styles, including the special folded partition called the H-beam. The numeral "2" in the machine designation means there are two insertion heads inserting two partitions into cases at one time. The machine does not rely on gravity during any part of the insertion process. From the time the partition is picked off the magazine until it is fully inserted into the case, the partition is always in firm control. In this machine, Wayne has combined the reliability of the Rockwell family of Panelview touchscreens with PLC Rockwell control systems. Servo-driven inserter head technology means reduced air consumption compared to a pneumatic system. The servo system also simplifies job changeover.
After passing through a paperboard carrier inserter not activated for this bottle in this size, cases are ready to meet up with the freshly filled bottles. This takes place at the case packer.
It's important to point out that one bottle size bypasses the partition inserter described above. That would be the 200-mL single-serve Margarita Mini, which goes into a four-count paperboard carrier. When this PET bottle is in production, cases just pass through the partition inserter to get to a Wayne Automation paperboard carrier inserter, the Model BCI 120. By integrating the carrier erecting and inserting functions into one machine using one processor, a smooth, reliable, simple solution is provided. Like the partition inserter, the BCI's servo-driven inserter head maintains control of the carriers throughout the insertion process. Dual grippers grab three carriers per side to place six at a time into a case waiting below. Powered corner gates guide the carriers into the case for consistent, reliable insertions.
'Soft-place' case packer
The case packer on the line is a Model 949 Pic-N-Place Tandem, Case Packer from Standard-Knapp, a high-speed, servo-driven, "soft-place" solution for precise, gentle loading of containers two cases at a time. It uses adjustable, heavy-duty grippers to pick up and gently place two cases of product completely into the bottom of every case.
Included just ahead of the actual case packer is the Standard-Knapp product laner. Empty cases are indexed beneath the flap opener, which opens each cases's leading flap. Cases are briefly separated to allow minor flaps between cases to be positioned downward. The two cases are then indexed onto a lift table and raised into container insertion position. Containers are then counted and transferred into position where the gripper head picks the right number of containers to fill two cases. The gripper head lowers to pick the bottles and then quickly and gently lowers them into the two cases. With that, the gripper head returns for another group of bottles as the two filled cases are discharged. The adjustable gripping head can be quickly modified to handle the many bottle shapes and sizes that Proximo sends through the line.
Exiting the case packer, cases pass through a filtec system from filtec. It inspects for fill levels and rejects any bottle whose fill level is out of spec. Then cases pass through a case taper from Wayne Automation, the Model RPS small-footprint machine. Mounted on it is an ink-jet case coder from Foxjet.
At this point an Arrowhead spiral conveyor takes cases to a floor below for palletizing on a machine from Von Gal, which is followed by a Lantech stretch wrapper.
Dickerson says that Line 5 now produces more cases than any other line in the Lawrenceburg plant, largely because it so readily accepts so many different bottle sizes with so little time being required for changeover. As this story goes to press, yet another bottle variety is being added to the mix: a 1.75-L glass bottle for 1800 Ultimate Margarita, another of the increasingly popular RTD alcoholic beverages being produced by Proximo. With the exception of the Wayne Automation four-pack paperboard carrier inserter, all the same pieces of equipment in the line that handle PET containers will be used. Bottles per minute will be reduced from 200/min to 120 when this bottle is being filled. And change parts will be required on the Wayne Automation partition inserter. But that's about it.
"It really is a versatile line," says Dickerson.
Companies in this article